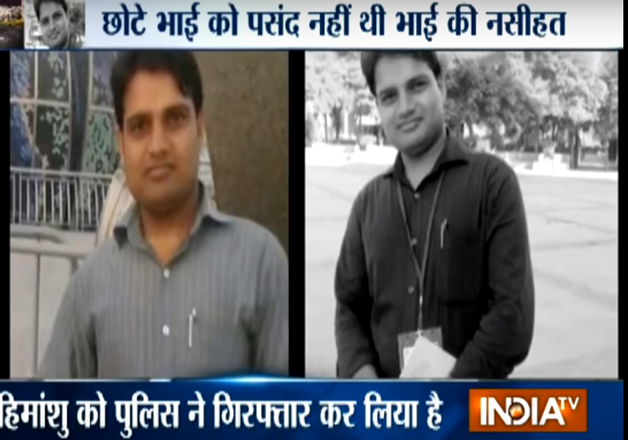 In a terrifying incident, a 28-year-old Delhi University assistant professor Hitesh Kumar Verma was hacked to death by his younger brother on Monday for forcing him to study. 
Hitesh reprimanded his younger brother Himanshu (24) for not studying for his exam. After few hours, Himanshu, in a fit of rage, allegedly picked up a dumbbell and smashed his brother's head with it, police said. 
According to the police, after killing his elder brother, Himanshu flung his brother's body from the window into a drain. 
Following the murder, which took place at Hitesh's rented accommodation in Burari's Bengali Colony, Himanshu woke up everyone in the building and concocted a story about four men barging into their home and killing his brother, police said.
Police received a call about a body lying in a drain around 3 AM. On interrogation, it was found he had been murdered and the deceased was identified. 
Hitesh taught Sanskrit in PGDAV College in South Campus, while Himanshu was pursuing Master's in Sanskrit from Shivaji College in Rajouri Garden.
"When the deceased was identified, police team spoke to his brother who cooked up a story. He told police two men had barged inside their house and murdered his brother," said the officer. 
However, there were loopholes in the story. Police said there was just one entrance of the house on the ground floor, where the landlord lived. However, the landlord told police that nobody had entered the house. 
The door of the room where the brothers lived was locked and there were no signs of a forced entry, he said. 
When police questioned Himanshu about why he didn't do anything to save his brother or why he wasn't harmed by the two attackers, he broke down and confessed his crime, said the officer. 
He also disclosed he had hidden the murder weapon under his bed, which was recovered by them. 
Himanshu told police his brother was a control freak and always forced him to do things that he didn't want to. 
The interrogation also revealed that Himanshu was short-tempered and felt jealous of his brother's lifestyle, police said.
"Himanshu told us that Hitesh used to control him and asked him to study and follow a proper routine, which irked him. Plus, Hitesh would not give him enough money. On Sunday night, Himanshu said, Hitesh scolded and kicked him when he found that he was not studying for Monday's exam. While Himanshu listened to his brother at the time, he could not control his anger," said a senior police officer.