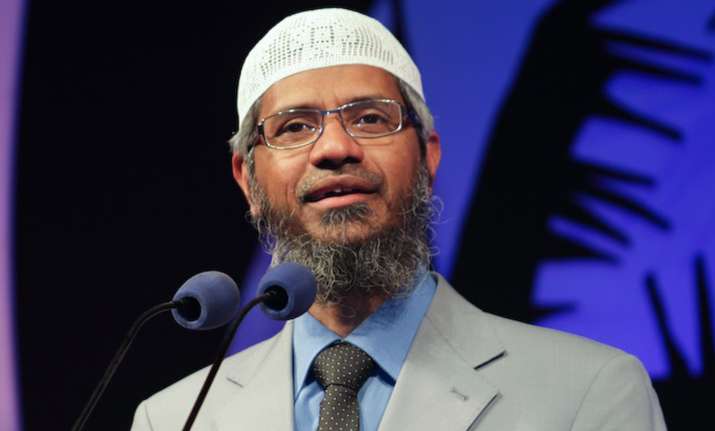 New Delhi: An online petition on the website change.org has demanded arrest of radical Mumbai preacher and televangelist Zakir Naik with an immediate ban on his channel "Peace TV".
 
The petition titled "Ban PeaceTV, arrest Zakir Naik - Mentor of Dhaka attack killers" accuses Peace TV of preaching terrorism in the name of preaching Islamic literature and says that Zakir Naik has become a mentor of terrorists worldwide.
 
The petition has been filed by Agniveer and submitted to Ministry of Information and Broadcasting and Ministry of Home Affairs, Govt of India.
 
After the horrendous Dhaka terror attack and busting of Hyderabad ISIS module, the demand for arresting Zakir Naik and banning Peace TV has become louder.
 
Why are such demands being made?  And are they based purely on merits of the case? Let's try and understand it threadbare.
Is Zakir Naik poisoning minds of Muslim youth?
The biggest charge against Zakir Naik is that he is brainwashing young, impressionable Muslim minds who are taking up arms in their hands, under the influence of Naik's sermons,  purportedly to establish Sharia law (Islamic law) across the world.
The charge has been vindicated after it emerged that at least two terrorists involved in Dhaka terror attack – Nibras Islam and Rohan Imtiaz -  were inspired by Zakir Naik.
 
In fact, Rohan Imtiaz is reported to have recently share don his Facebook timeline one of the highly objectionable sermons of Zakir Naik in which the Mumbai salafist had argued that every Muslim should be a terrorist.  He had tried to justify his sermon by saying that to terrorise means to scare others.
 
Even Mohammad Ibrahim, the head of Hyderabad ISIS module, is also reported to have revealed to the investigators of National Investigation Agency (NIA) that he was inspired by Zakir Naik and that Naik's sermons encouraged him to join  violent outfits  working to establish Sharia law across the world.
 
If New York based Gatestone institute, a think tank with specialisation in strategy and defence issues, is to be believed, then at least three other terrorists were reportedly inspired by Zakir Naik's sermons.   
 
These three terrorists are – 1. Nazibullah Zazi, the Afghan-American arrested last year for planning suicide attacks on the New York subway 2. Rahil Sheikh, accused of involvement in a series of train bombings in Mumbai in 2006 and 3. Kafeel Ahmed, the Bengaluru man fatally injured in a failed suicide attack on Glasgow Airport in 2007.
 
The Bangladesh government is also worried over the revelation that at least two of Dhaka attackers were inspired by Zakir Naik.  A few media reports have also suggested that Naik had visited Bangladesh a couple of months ago although there is no official confirmation regarding his visit.
 
Bangladeshi information minister Hassanul Haq has said that his govt is looking into Naik's speeches and sermons and that his ministry has received complaints against Naik's interpretation of Islam.
 
"For a few months, many religious alims and ulemas and maulanas have lodged a complaint with my ministry that Dr Zakir Naik's interpretation of Islam is not in line with the Quranic version and Hadees. So we are looking into the content. ," Inu told a news channel.
 
"The interpretation in a wrong way of Islam influences young people and...fans terrorism. That is why Dr Zakir Naik's angle is to be looked into, "he added.
 
These reports have rattled the government of India as well and Kiren Rijiju, Minister of state for Home affairs, has conceded that the Modi government is concerned over the content of Naik's sermons.
 
"Zakir Naik's speech is a matter of concern for us. Our agencies are working on this," Rijiju said.
 
Zakir Naik is presently visiting Mecca and he is likely to return to Mumbai on July 11 and address a press conference on July 12.
Objectionable sermons of Zakir Naik
A close look at the sermons of Zakir Naik reveals that he has indeed advocated violence and hatred for followers of other religions many a times.
 
In a shocker, Naik also supported suicide attacks albeit under certain conditions.
 
Not only this, he refused to call Osama Bin Laden a terrorist and instead held the then US President George W Bush responsible for 9/11 attacks in America.
 
Let's have a look at some of the most objectionable sermons of Zakir Naik:
 
1. Homosexuals and Muslim apostates, who switched over to other religions, can be definitely put to death.  
 
2. Every Muslim should be a terrorist as to terrorise means to scare others (Shared by Dhaka attacker Rohan Imtiaz on his Facebook timeline)
 
3. Suicide attacks, under certain circumstances and if advised by clerics, is not bad.
4. Non-Muslims should not be allowed to have places of religious worship in an Islamic country. Islam is superior to all other faiths. Islam should be spread to all parts of the world but preaching of other religions should be banned in Islamic countries.
 
5. Girls shouldn't be sent to schools where they lose their virginity by the time they pass out. In the West, they are selling their daughters and mothers in the name of women's liberation.
 
6. Wife-beating in the Muslim world is not necessarily a bad thing.  Use of condom during sex is akin to killing a human being.
 
Because of such provocative statements, his entry has been banned in Canada and UK. Even Malaysia barred him in April this year from conducting a talk at a university after complaints from Non-Muslim groups.
 
Even in Mumbai, the police have not given him permission to organise sermons since 2012. The police have been denying permission to Naik's sermons because it fears that his preaching will lead to sectarian tension.
 
And it's not about Hindu-Muslim tension only. Naik is not popular with either Sunni or Shia clergy. He is being opposed by Sunni and Shia clerics since 2009.
 
In fact, Darul Uloom Deoband has issued  Fatwas against Zakir Naik asking  Muslims to not follow him.   Deobandi scholars called his lectures a fitna (rebellion) and labelled him an agent of Ghair Muqallideen (those who don't adhere to established doctrines of Islam).
 
On May 6, Shia cleric Maulana Kalbe Jawad exhorted the community not to pay attention to religious preachers like Zakir Naik.
 
"Such leaders talk the language of extremism which gives rise to terrorism, hence is not acceptable in any form," he said, addressing Shias after the Eid prayers.
 
"Most of the terror activities have been found to have links with Wahabis. Naik is very popular among youths, but provocative. Youths arrested for Bangladesh terror attack have said they were inspired by Naik. Therefore, the community must watch out against any leader," he added.
What separates Zakir Naik from other salafis?
Zakir Naik belongs to Sunni- based 'Salafi' school of thought which believes in a return to the original ways of Islam.
 
In simple language, Salafis are fundamentalists who believe puritan form of Islam.
 
The word 'Salafi' comes from the Arabic phrase, 'as-salaf as-saliheen', which refers to the first three generations of Muslims starting with the Companions of the Prophet.
 
Generally, salafis have very distinctive appearance as they prefer  long white robes, long beards and flowing head scarf. However, Zakir Naik is different in the sense that  he wears  a three-piece  suit, tie, skull cap and the preacher's beard.
 
Not only that, he speaks very fast in what is called his 'machine-gun' English.
 
He loves to establish the supremacy of Islam over other religions by quoting  from religious texts of several religions and  comparing  their doctrines.
 
Interestingly, he is a trained Doctor and completed his MBBS degree from BYL Nair college in Maharashtra. His life changed after he met Ahmed Deedat, a South African Muslim missionary of Indian origin in 1987.
 
He modelled himself on the lines of Ahmed Deedat, gave up his career in medicine before even starting it and set up the Islamic Research Foundation (IRF) at Dongri in 1991. Later, he also established Islamic International School (IIS) where his two daughters and son are enrolled. His wife, Farhat, looks after the women's wing of IRF.
Is Peace TV preaching hatred against non-Muslims?
The online petition against Zakir Naik has alleged that his 'Peace TV' is preaching terrorism in the name of preaching Islamic literature.
 
Zakir Naik set up 'Peace TV' in 2006 to spread his thoughts all across the world. It was in English language. The Urdu version of Peace TV was launched in 2009 while the Bengali version was launched in 2011.
 
Zakir Naik's organisation claims Peace TV is broadcast in over 200 countries and has millions of followers, especially middle-class urban Indian and Bangladeshi Muslims.
 
Apart from delivering lectures which consists of highly objectionable sermons as mentioned above on Peace TV, Zakir Naik  is known for converting people to Islam on his live shows.
 
Such live conversions have been criticised by people from other religions who accuse him of stage managing such acts.
 
It can't be denied that the activities of Zakir Naik raises a number of questions and the demand for his arrest on his arrival from Mecca is not without valid reasons.
However, the final call has to be taken by the Police who will have to produce solid evidence which could hold water in a court of law. Certain media reports have quoted Mumbai Police officials as saying that they are trying to gather all the evidences so that appropriate action could be taken.
 
Similarly, the banning of Peace TV also deserves  serious attention on part of the government. As Congress spokesperson Manish Tiwari has pointed out under the Cable Television Regulation Act 1995, there is a Programme and Advertising Code which every TV channel is supposed to follow.
 
And if a particular TV channel is violating the code and is inciting or allegedly inciting hatred or making inflammatory programming then the Information and Broadcasting Ministry must act and take appropriate action.
The central government today termed Zakir Naik's speeches as "highly objectionable" and said that the Union Home Ministry will take appropriate action in this regard.
"The Home Ministry will study (his speeches). It will take appropriate action after studying them. His speeches, as being reported in the media, are highly objectionable," Information and Broadcasting Minister M Venkaiah Naidu said.