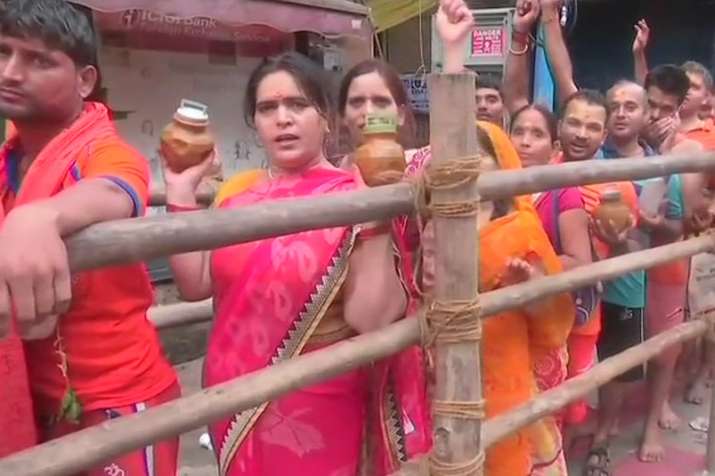 Devotees across India queued up outside Shiva temples to celebrate the second Monday of Hindu calender's Sawan month. The Mondays of the month are considered auspicious and are celebrated by observing fast and offering special prayers to Lord Shiva by Hindus across the country. 
Sawan is also the time when Kanwar yatris make the journey from nearest natural holy source of water to their Shiva temple. Traditionally the arduous yatra is made from Haridwar, Gaumukh and Gangotri in Uttarakhand and Sultanganj in Bihar to fetch holy waters of Ganges River,  but in modern times several holy ponds, lakes and rivers host yatris. 
Several states have made special provisions for food and shelter of Kanwar yatris. Uttar Pradesh government has put in place traffic deviations at areas with high yatri movements to allow them safe passage. In Ghaizabad, schools have been ordered to remain closed from August 5 to 10 as at least 50 lakh Kanwariyas are expected to cross the West UP, including Ghaziabad. 
Officials said that all the meat shops on the Kanwar route in the district have already been shut and all liquor shops along the kanwar route will be closed from August 7 till the Kanwar Yatra gets over.
Here is a glimpse of celebrates across India: 
07:15 am: 
Mumbai: 'Aarti' being performed at Babulnath temple on the second Monday of 'sawan' month. pic.twitter.com/l4PDs554d6

— ANI (@ANI) August 6, 2018
07:11 am: 
Delhi: Devotees offer prayers at Gauri Shankar Temple on the second Monday of 'sawan' month. pic.twitter.com/2Qn1pcbGXC

— ANI (@ANI) August 6, 2018
07:09 am: 
Deoghar: Devotees gather at Baba Baidyanath Dham to offer prayers to Lord Shiva on the second Monday of 'sawan' month. #Jharkhand pic.twitter.com/zo8jme6RZ6

— ANI (@ANI) August 6, 2018
06:55 am: 
Varanasi: Devotees queue up outside Kashi Vishwanath Temple to offer prayers to Lord Shiva on the second Monday of 'sawan' month. pic.twitter.com/u2yrVFesVq

— ANI UP (@ANINewsUP) August 6, 2018
06:50 am: 
Haridwar: Devotees offer prayers to Lord Shiva at Daksha Mahadev temple on the second Monday of 'sawan' month. #Uttarakhand pic.twitter.com/JXjhgQILlB

— ANI (@ANI) August 6, 2018