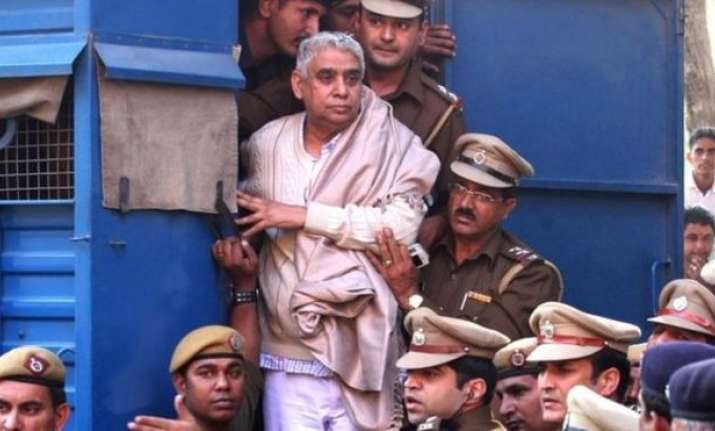 After Dera Sacha Sauda chief Gurmeet Ram Rahim was sentenced to 20 years in jail for raping two of his followers, a local Haryana court is set to deliver its judgement in two cases against another self-styled godman – Sant Rampal.
 
Rampal was arrested in November 2014 on the charges of murder and rioting  in connection with the violence that took place in Satlok Ashram. He is currently lodged in the Hisar jail.  
Let's take a look at the journey of Sant Rampal from an engineer to a self-styled godman:
Early Life
The 'godman' was born Rampal Dass to a family of farmers in Sonepat district's Thanana village on September 8, 1951.
After school, he got a diploma in engineering and joined Haryana government's irrigation and public health department as a junior engineer.
At the age of 48, he was reportedly removed from the department for carelessness , in May 2000. However, his life had already begun to change direction by that time.
A seer, Swami Ramdevanand, had taken him under his wing 18 years back. In 1999, Rampal established the Satlok Ashram in Rohtak district's Karontha village.
His sect prohibits temple visits, idol worship, untouchability, adultery and vulgar singing and dancing, among many other things. 
Very soon, the ashram gained popularity and he subsequently set up several ashrams across the state, including the one at Barwala, presenting himself as an incarnation of the 15th century mystic poet Kabir.
Clashes with Arya Samaj and Rampal's arrest
Rampal triggered a row in 2006 by criticising the central text of the Arya Samaj which eventually led to clashes between the two sects. Arya Samaj followers surrounded Rampal's ashram and one person was shot dead in the clashes, besides 59 others being injured.
Following the clash, Rampal was arrested on charges of murder and attempt to murder and his ashram at Karontha attached by the government.
He was released on bail two years later, on April 30, 2008, after which he shifted base to Hisar district's Barwala town. It was after the matter moved to the Supreme Court that the ashram was handed over to Rampal again on April 7, 2013.
A month later, on May 12, clashes again erupted between a group of Arya Samajis and Rampal's followers. Two people were killed and around 100 injured as the police opened fire and lathicharged the warring groups to control the melee.
In July 2013, Rampal and his followers went on the rampage in a Hisar court where he was to appear for a murder conspiracy trial dating back to 2006.
In 2008, he was released on bail but refused to attend court hearings regularly. Between 2010 and 2014, Rampal skipped court proceedings 42 times.
Following this, the High Court issued a non-bailable warrant against him, and he was arrested on November 19, along with his 492 followers. 
There are two cases coming up for hearing against Rampal today. Last Wednesday, he appeared in court for four FIRs 201, 426, 427 and 443. The court has reserved the verdict for FIRs 426 and 427. As per FIR number 426, Rampal has been charged with obstructing government officials in performing his duty. FIR 427 was registered against him for holding people hostage in his ashram.