Follow us on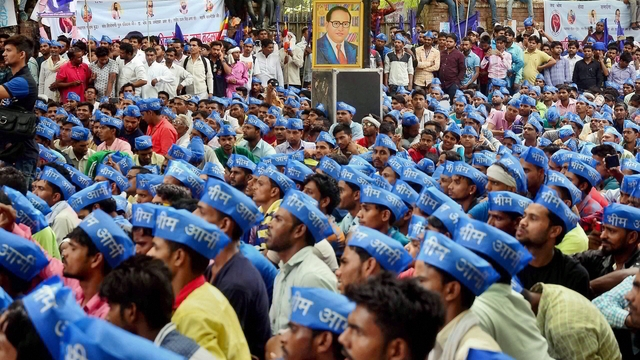 Thousands of dalit rights activists, led by Bhim Army, on Sunday gathered at the Jantar Mantar here to raise their voice against the caste-based violence in Saharanpur city of Uttar Pradesh.
Among the 5,000 people participating in the protest despite being denied permission by the Delhi Police was Bhim Army founder Chandrashekhar who has been evading arrest for allegedly sharing an objectionable video on social media and disrupting the communal harmony in Saharanpur. 
Addressing the protestors, Chandrashekhar said that he will surrender to the police as he has no fear. 
"I am not a coward. I wanted to reach you, that is why I remained silent. Now I will surrender to police," the 30-year-old lawyer was quoted as saying.
"I thought that my community is sleeping, but seeing the crowd today I see that they have woken up. Now I don't have any fear," he added. 
Chandrashekhar is named in one of the 24 FIRs registered by UP Police for his alleged role in instigating violent protests by Dalits in Saharanpur on May 9. 
The protests were staged four days after one Thakur man was killed and 25 Dalit homes set ablaze after Dalits in Shabbirpur village objected to loud music being played by Thakurs in a procession to attend a function in honour of Rajput ruler Maharana Pratap.
In the violence that followed, dalit protesters allegedly set fire to a police post and over a dozen two-wheelers in several areas of the city. 
According to UP Police, Chandrashekhar has been on a run since May 10, surfacing only through an audio message that asked supporters to join him at Jantar Mantar on Sunday.