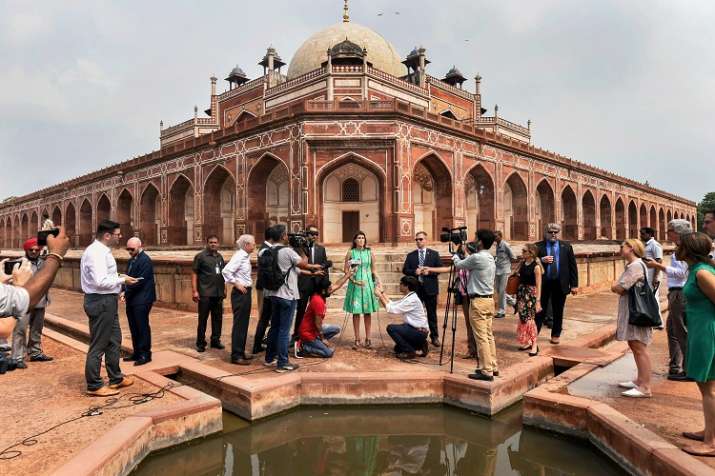 Talking about the strength of US-India relationship she said, the two countries were oldest democracies that shared values of people, freedom and opportunities.
"We see those opportunities between the US and India in a multiple level of ways whether in counter terrorism, whether it is the fact that we want to continue democratic opportunities, whether it is a fact that we want to start to work together more strongly in military aspects," she said.
Haley said that there are lot of things common between India and the US and her visit was to solidify the friendship.
"In this day and time we see more and more reasons for India and the US to come together. I am here to once again solidify our love for India, our belief in the friendship India and the US have and our willingness to make that relationship even more stronger," she said.
Hailing preservation of Humayun tomb as a reminder of value attached by India to culture, she said,"Humayun tomb is a reminder of how much we value culture and how much India values culture. The preservation that has happened here is a reminder that we all remember where we came from and we have to preserve it for the future."
Haley, who is scheduled to visit religious places in the city on Thursday, asserted the importance of religious freedom.
"We think freedom of religion is as important as freedom of rights and freedom of people," she said.
Haley during her two-day visit will meet senior Indian officials, business leaders, and students, underscoring America's "strong alliance" with the country.
Talks between Haley, the highest ranking Indian-American in the Donald Trump administration, and Indian officials could include a host of topics including India-US strategic ties and significant global developments.
Haley had visited India in late 2014 when she was the South Carolina Governor.
Haley, the daughter of Sikh immigrants from Punjab, is the first Indian-American to serve in a Cabinet-level position in any US presidential administration.
(With PTI inputs)