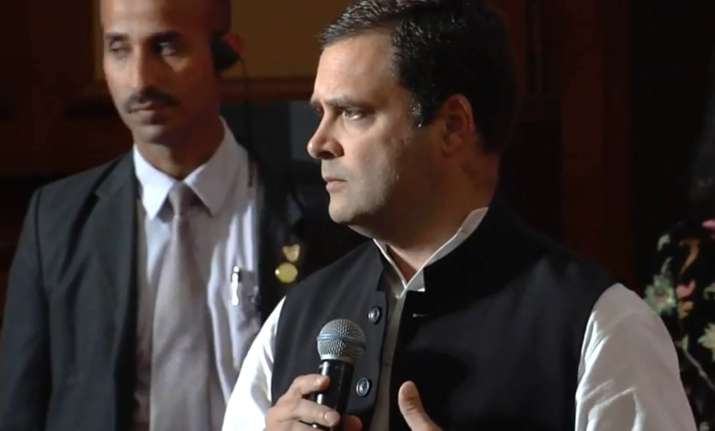 Congress president Rahul Gandhi addressed Indian diaspora from 50 countries at a function organised by Global Organisation of People of India Origin (GOPIO) in Bahrain on Monday. 
The address is part of Congress chief's interactions with Persons of Indian Origin (PIOs). Gulf countries have the biggest Indian diaspora of more than 35 lakh.
According to a statement issued by the Congress yesterday, Gandhi is the chief guest at valedictory session of the three-day long function. 
Rahul Gandhi received a 'euphoric reception' by members of Non-Resident Indians (NRIs) on his arrival in Bahrain earlier today, Congress said in a tweet. 
Congress tweeted: "Euphoric reception for Congress President Rahul Gandhi on his arrival at Kingdom of Bahrain."
"Fans and well wishers throng the Bahrain Airport to greet Congress President Rahul Gandhi," the party tweeted.
Congress chief Rahul Gandhi addresses NRIs in Bahrain:
Here are highlights of Rahul Gandhi's speech in Bahrain 
9:57 pm: All of you in this room are proof that India can bridge any gap that is put before it. No global vision for India can be built without you. Together, we must steer India back to its original strengths, we need to make India the centrepiece of ahimsa and compassion: Rahul Gandhi in Bahrain
9:55 pm: Congress has the ability to defeat BJP in Lok Sabha polls in 2019
09:50 pm: I go watch movies and read books from time to time to relax a mind: Rahul Gandhi
09:50 pm: Rahul Gandhi in Bahrain: 'Will update Congress' ideology leaders and their reputation within six months'
09:42 pm: Supporting MSMEs to create jobs, improving education, self-reliance in health care to be three priorities when Congress gains power: Rahul Gandhi
09:35 pm: Your talent, skills, tolerance, patriotism is what India needs today. You have shown us how you have built the countries you have journeyed to: Rahul Gandhi addressing Global Organisation of People of Indian Origin in Bahrain
09:32 pm: I cannot imagine an India that does not belong to us: Rahul Gandhi
09:30 pm: Instead of accepting that we are struggling to create jobs, instead of uniting people of all religions and communities together to face the challenge, the govt is busy converting the fear being generated in jobless youth into hatred between communities: Rahul Gandhi
09:25 pm: Job creation is at an eight year low. Instead of focusing on removal of poverty, job creating and world class education system, we see instead rise in forces of hate and division: Rahul Gandhi in Bahrain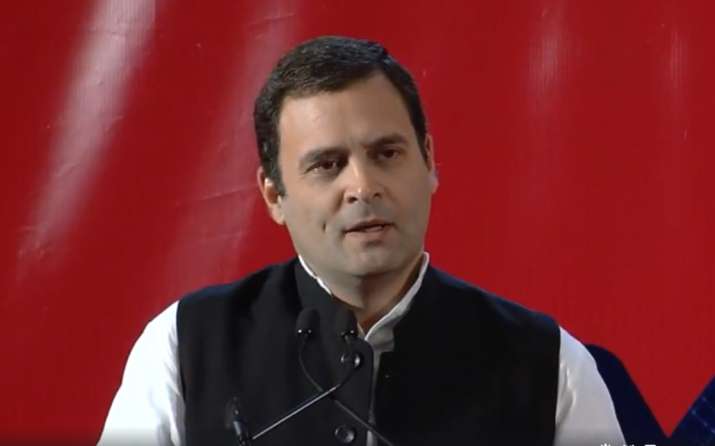 09:15 pm: I am here to create a bridge between the world and home: Rahul Gandhi
09:15 pm: I am here to tell you what you mean for your country. There is a serious problem in the country and you are part of solution: Congress chief tells NRIs in Bahrain
Earlier in the day, the Congress president met with Crown Prince of Bahrain Shaikh Salman bin Hamad Al Khalifa in Manama and discussed a variety of bilateral issues of interest during his first foreign trip after becoming the Congress chief.  
Gandhi, who is here as a state guest of Bahrain, is also expected to meet King Hamas bin Isa Al Khalifa.  He will also meet the Gulf country's Prime Minister Prince Salman bin Hamas Al-Khalifa.  
The Congress president also met with foreign minister Shaikh Khalid bin Ahmed bin Mohammed Al Khalifa, Gulf Daily News reported. 
He will also have an interactive session with business leaders of the Indian-origin tomorrow.  Gandhi is expected to return to India on January 9.