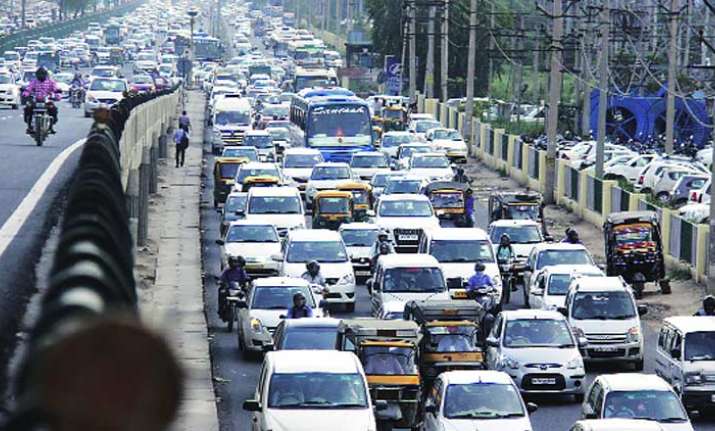 In a massive blow to the Arvind Kejriwal-led Aam Aadmi Party government in Delhi, the National Green Tribunal today stayed the implementation of the city government's pet odd-even car rationing scheme.
In stiff reprimand for the Kejriwal government, the NGT said that the government was rolling out the scheme despite reports from the CPCB and DPCC saying odd-even had been ineffective.
The tribunal further rapped the AAP government saying it was trying to implement the scheme when the situation had started to improve and that it did nothing through the entire year.
The Delhi government on Thursday announced the re-implementation of the 'odd even' scheme for a period of five days from November 13 to 17. Delhi and its adjoining areas have been battling alarming levels of air pollution for the past four days. A thick blanket of smog has covered the capital city, leading to closure of schools and the IMA declaring the situation as a public health emergency.
Key takeaways from what NGT said today:
The tribunal said that the Delhi government will not implement odd-even rule unless it establishes that the scheme is not counter-productive. "Nothing has been done from your end for the past one year," NGT told the Delhi government on Friday.
"The Supreme Court and the NGT have suggested 100 measures to curb pollution but you always opted for Odd-Even. Delhi government will have to justify this. When situation is improving, the govt is trying to implement odd-even. You should have done this earlier if you wanted to. This will now cause inconvenience to people," it said.
The NGT has asked the Delhi government to prove whether the Odd-Even scheme has reduced pollution, failing which it will stay the imposition of the scheme. Hearing to continue tomorrow.
The green tribunal also asked the Delhi government to impose Rs 1 lakh fine on builders found violating directions after it halted construction work in view of smog and air pollution.
NGT further directed states to ensure that there is no crop burning. If any incident is reported to NGT, a considerable amount of fine will be charged from salary of responsible officer, it said.
NGT also asked the Delhi government to give an undertaking that it will roll out Odd-Even only when particulate matter levels are over 300.
"All the constitutional authorities and statutory bodies measurably failed to perform their duties. So far pollution is the concern, it is a joint responsibility of all the stakeholders" NGT said. 

Click here for full coverage on Delhi's air pollution.