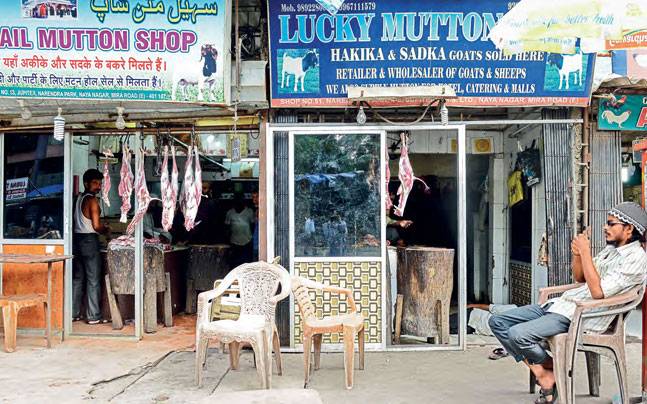 Protesting against the Yogi Adityanath-led government's crackdown on illegal and mechanised slaughterhouses in Uttar Pradesh, meat sellers here have gone on an indefinite strike . 
The mutton and chicken sellers who have pulled down their shutters have threatened to intensify their stir from Monday, said Mubeen Qureshi of the Lucknow Bakra Gosht Vypar Mandal. 
As a result, non veg food outlet, including the famous Tunday and Rahim's, who had shifted to mutton and chicken dishes after buffalo meat became scarce, too kept their shops shut. 
The meat sellers are piqued over the crackdown on slaughter houses which has adversely hit the livelihood of lakhs of people, Qureshi said. 
He added that fish sellers too may join the protest. 
After coming to power, the Aditya Nath Yogi government has ordered closure of illegal slaughterhouses and ban on cow smuggling aiming to fulfill a key electoral promise. 
State BJP leader Mazhar Abbas appealed to meat sellers saying that only the illegal shops and slaughter houses would face government action and the geneuine ones don't need to worry.
Following reports of cow vigilantes and moral police misusing government's initiatives of banning illegal slaughter and starting anti-Romeo squads, Uttar Pradesh Chief Minister Yogi Adityanath had, on Thursday, issued strict instructions to senior officials to tackle such elements with an iron hand.
CM Adityanath's concern came after reports of three mutton shops being set ablaze in Hathras district, and several cases of moral policing where young boys and girls in friendly conversations were being allegedly harassed by anti-Romeo squads of the police. 
Expressing his annoyance over such incidents, Yogi Adityanath warned the senior officials that strict action would be taken if such cases are not contained. 
In a meeting with top officials, including chief secretary (home) Debashish Panda and DGP Javeed Ahmed, CM Yogi said 'such incidents should be tackled with an iron hand'.