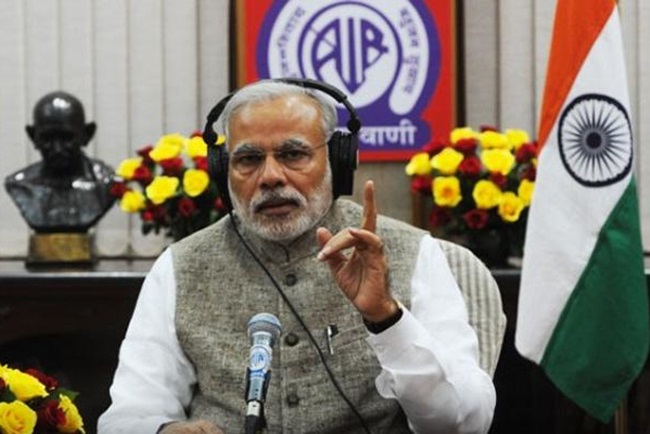 Prime Minister Narendra Modi on Sunday lauded the courage of Indian soldiers through his radio programme "Mann Ki Baaat" and thanked the nation for sending them Diwali messages.
"From last few months, our jawans (soldiers) are sacrificing their lives, we should celebrate this Diwali in their name," Modi said while speaking on Mann Ki Baat, his monthly radio address.
Modi also applauded the soldiers for their undying love and sacrifice for the country and said that this Diwali was dedicated to them.
"Every citizen of the country is proud of our soldiers," he said. 
"People from walks of life sent messages of love and encouragement for our jawans (soldiers), just as they lit candles for their well being,' he added.
Modi also said that the #Sandesh2Soldiers hashtag was used by a lot of people and "we were flooded with well wishes and love for jawans from citizens".
"I also have to thank the citizens of the nation for their support and love for our security forces and jawans (soldiers) protecting us," he said.
Recognising the works of the Armed forces, Modi said, "Be it BSF (Border Security Force), CRPF (Central Reserve Police Force), Assam Rifles, ITBP (Indo Tibetan Border Police), Navy, Air Force, our jawans are on duty and guarding us. That is why we are celebrating Diwali joyfully," the Prime Minister said.
More than 10 lakh messages were sent for the soldiers from across the nation.
ere are the highlights:
"My warmest wishes to everyone for the happy festival of Diwali" PM Narendra Modi addresses the nation with "Mann Ki Baat" pic.twitter.com/bEKzWV8sPx

— ANI (@ANI) October 30, 2016
Our festivals are linked closely to the nature...the food, weather, everything about a festival is so symbiotic: PM Modi

— ANI (@ANI) October 30, 2016
All forms of darkness are to be fought with a "deep" of Diwali, we are eliminating all the darkness from inside us and the world around: PM

— ANI (@ANI) October 30, 2016
Everyone is talking about cleanliness and environment today. In fact, everyone cleans their homes vigorously for Diwali: PM

— ANI (@ANI) October 30, 2016
Whole world today celebrate Diwali, it is a festival where we celebrate light over darkness: PM Narendra Modi in #MannKiBaat

— ANI (@ANI) October 30, 2016
Whole world today celebrate Diwali, it is a festival where we celebrate light over darkness: PM Narendra Modi in #MannKiBaat

— ANI (@ANI) October 30, 2016
Is that not something we should inculcate for our society and the living spaces?: PM Modi speaking on "Mann Ki Baat" program

— ANI (@ANI) October 30, 2016
World leaders are celebrating Diwali and sharing their memories & pictures on different social media platforms: PM Narendra Modi #MannKiBaat

— ANI (@ANI) October 30, 2016
Diwali is now not just celebrated in India, but all over the world. Diwali is a festival which is bringing people together: PM Modi

— ANI (@ANI) October 30, 2016
I request parents & guardians that if their little kids are bursting crackers they should be monitored & accompanied: PM Modi

— ANI (@ANI) October 30, 2016
I also have to thank the citizens of the nation for their support & love for our security forces & jawans protecting us: PM Modi

— ANI (@ANI) October 30, 2016
From last few months our jawans are sacrificing their lives, we should celebrate this Diwali in their name: PM Narendra Modi #MannKiBaat

— ANI (@ANI) October 30, 2016
People from all walks of life sent messages of love & encouragement for our jawans, just as they light candles for their well being: PM

— ANI (@ANI) October 30, 2016
#Sandesh2Soldiers hashtag was used so much by everyone and we were flooded with well wishes & love for jawans from citizens: PM Modi

— ANI (@ANI) October 30, 2016
Be it BSF, CRPF etc, our jawans are on duty and guarding us; that is why we are celebrating Diwali joyfully: PM Modi

— ANI (@ANI) October 30, 2016
We have to forget about all our customs & traditions and treat a girl and a boy equally, and we are moving fast: PM Modi #MannKiBaat

— ANI (@ANI) October 30, 2016
Tomorrow we are celebrating Sardar Vallabhbhai Patel's birth anniversary. We are also remembering Indira Gandhi ji tomorrow: PM Modi

— ANI (@ANI) October 30, 2016