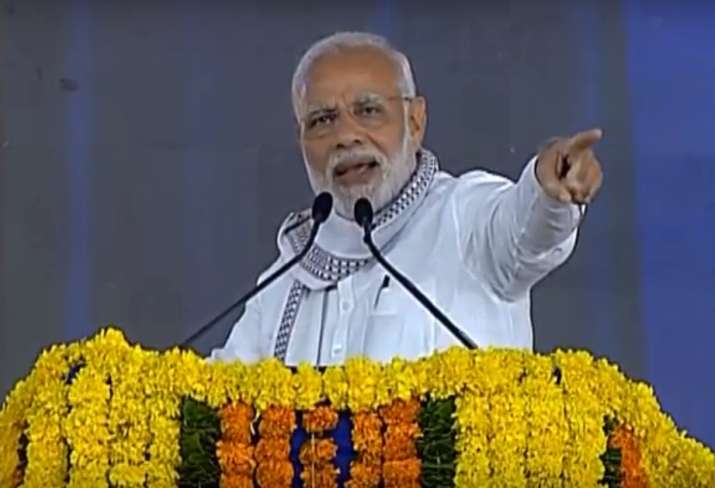 Prime Minister Narendra Modi reached Gujarat on Thursday morning to launch several programmes in various parts of the state, during his day-long visit. Modi landed in Surat earlier on Thursday on his way to Valsad in south Gujarat where he dedicated over 1.15 lakh residential units built under the Pradhan Mantri Awas Yojana (rural) in Jujwa region at a cost of Rs 1,727 crore.
Later, PM Modi distribute skill certificates and appointment letters to 5,000 women, connecting them with industrial units under the Mukhya Mantri Gramoday Scheme. The Prime Minister then laid the foundation stone of a Rs 586 crore water supply scheme, Astol group water supply scheme, for the benefit of interior villages in Kaprada region in Valsad district. He also addressed a public gathering here.
Next, PM Modi inaugurated a Rs 275-crore 300-bed modern civil hospital in Saurashtra region's Junagadh district as well as a girls hostel of the new fisheries college at the Junagadh Agricultural University.
Modi in Gujarat Live Updates: 
Watch: PM Modi's speech in Junagadh, Gujarat
03:27 pm: The coming of Pradhan Mantri Jan Arogya Yojana- Ayushman Bharat will transform the health sector and ensure the poor get top class healthcare and that too at affordable prices: PM
03:25 pm: The health sector requires good doctors, paramedical staff. We also want medical instruments to be made in India. The sector must also keep pace with the technological advancements globally: PM
03:24 pm: The Government's emphasis in cleanliness is being universally appreciated. The importance to cleanliness is important because a Clean India ensures people do not suffer from diseases: PM 
03:23 pm: The Government of India has started Jan Aushadhi stores, which is reducing the prices of medicines. It is important that the poor and the middle class gets access to affordable medicines: PM
03:21 pm: Medical colleges and hospitals are coming up across Gujarat, not only helping patients but also those who want to study medicine: PM
03:20 pm: In Gujarat, there is a constant effort to ensure adequate water reaches every part of the state. We are also working towards water conservation: PM
03:16 pm: There are 9 initiatives, worth over Rs 500 crore, which are either being dedicated to the nation or their foundation stones are being laid. There is new energy and vibrancy in India's development journey: PM 
03:15 pm: Today I could see the happiness on the faces of those who have been given their own homes: PM
03:10 pm: PM Modi inaugurates projects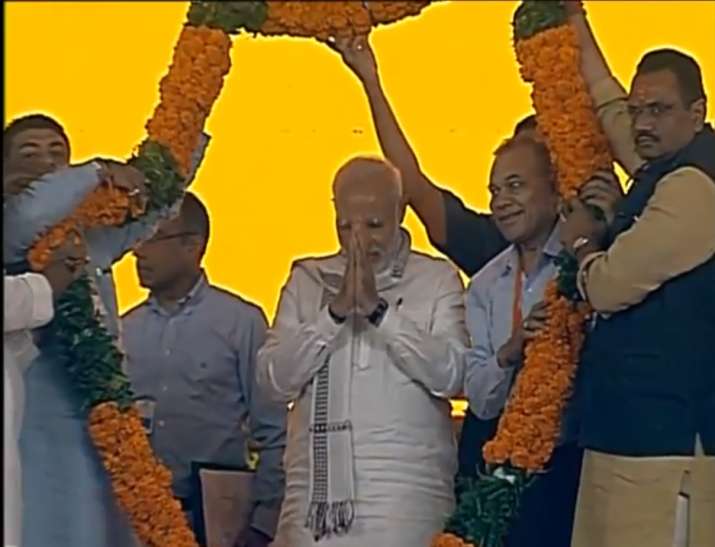 02:50 pm: PM Modi reaches Junagad to inaugurate several development projects in Junagadh
12:35 pm: I got an opportunity to talk to women across the state today who got their homes under PM Awas Yojana. The wonderful homes under PM Awas Yojana are being made possible because there are no middlemen: PM
12:33 pm: It's the women in villages who still have to labour for drinking water. Due to the lack of availability of clean drinking water, we also become susceptible to diseases : PM Modi
12:32 pm: I will be getting to visit various areas in Gujarat today
12:30 pm: 'Spent my early years in tribal area, witnessed shortage of water'
12:27 pm: PM Modi interacts with beneficiaries of Pradhan Mantri Awas Yojana in Valsad
12:24 pm: PM Modi begins addressing
11:30 am: Before leaving for New Delhi, Modi is also expected to hold a meeting of state-level BJP leaders to possibly discuss strategies for the 2019 Lok Sabha election. The BJP had in 2014 won all the 26 parliamentary seats in Gujarat and its target is to maintain the kitty in 2019.
11:16 am: From there, Modi will reach Raj Bhavan around 6.30 p.m. to attend a meeting of the Somnath Temple Trust, of which former Chief Minister Keshubhai Patel is the chairman and BJP President Amit Shah and former Deputy Prime Minister L.K. Advani are trustees. Official sources said Advani is likely to be present at the meeting.
11:01 am: He will then fly to state capital Gandhinagar to deliver the convocation address of the Gujarat Forensic Sciences University in the evening and distribute degree certificates and medals to students. 
10:39 am: In all, he will inaugurate public works worth around Rs 450 crore in Junagadh before addressing a public meeting. 
10:31 am: The Prime Minister will also dedicate a milk processing plant of Junagadh district cooperative of milk producers Federation at Sorath.
10:19 am: Prime Minister Narendra Modi arrives in Surat. 
(With inputs from agencies)