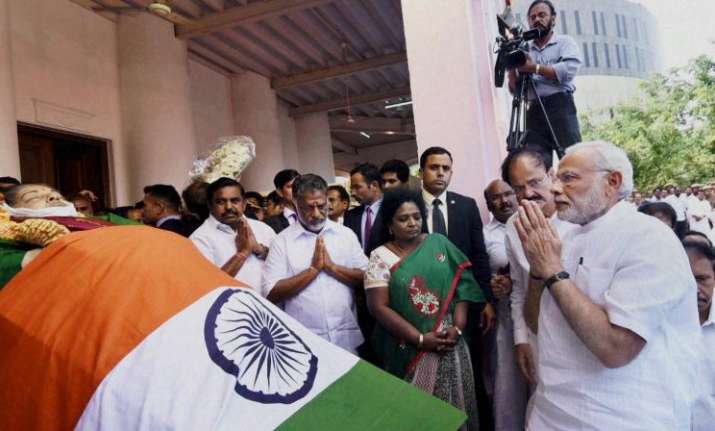 In a major faux pas, Prime Minister Narendra Modi was forced to sit inside the Indian Air Force plane at Chennai airport after he landed there on his way to pay tributes to the departed Tamil Nadu Chief Minister Jayalalithaa. 
According to a report in 'Deccan Chronicle', the Prime Minister landed at Chennai airport at around 12:02pm on Tuesday. 
PM Modi  was to be taken by helicopter  to  INS Adyar from where he was to travel by road to Rajaji Hall to pay tributes to the departed AIADMK leader.
The report says that the helicopter was kept ready in bay number 6.  When security personnel accompanying the PM went and checked the chopper as part of the  routine exercise, they found that there was not enough fuel in the helicopter.
"According to PM's security officers, the minimum quantity of fuel, required when VVIP is travelling, was not there in the chopper," Deccan Chronicle quoted an airport source as saying.
The IAF helicopter crew tried to convince the Prime Minister's security personnel that there was enough fuel to go and come back to INS Adyar near Marina beach. However, they were not convinced and insisted on filling enough fuel.
It took another one hour for the IAF helicopter to get ready with required fuel and PM Modi took off at around 1.04 pm from the  airport to INS Adyar. 
As the PM waited inside the aircraft for an hour, flight carrying Kerala Governor Justice P Sathasivam, CM Pinarayi Vijayan, former CM Ommen Chandy and opposition leader Ramesh Chennithala was diverted to Coimbatore while many other flights were forced to make rounds in the sky.
Kerala Governor and CM with political leaders from that state returned from Coimbatore and landed in Chennai by 3 pm and rushed to Rajaji Hall to pay respects to Jayalalithaa.
In addition to that, eight flights, which were to take off during the time, had to wait till PM's helicopter left the airport to INS Adyar.