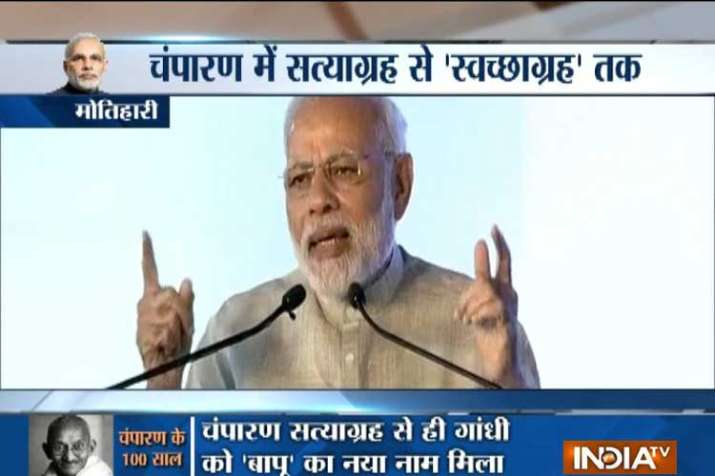 PM Modi, who was in Bihar's Motihari to attend an event to mark 100 years of Mahatma Gandhi's Champaran Satyagraha, on Tuesday congratulated the Nitish Kumar-led Bihar government for leading the Swachhta campaign. "I am proud of the fact that Bihar has shown its leadership abilities in this journey from Satyagraha to Swachhgraha," the prime minister said.
The prime minister also flagged off a train between Katihar and Old Delhi, dedicated to the nation a loco factory in Madhepura and laid the foundation of a track-doubling project in Bihar. 
Eleven projects worth over Rs 3,000 crore have been sanctioned in Bihar to stop the flow of dirty and untreated water from homes and factories to the Ganga, the PMO Twitter handle quoted Modi as saying. 
The Bihar government had in April 2017 launched year-long celebrations to mark the centenary of Champaran Satyagraha movement of Mahatma Gandhi. 
PM MODI ADDRESSED SATYAGRAHA SE SWACHHAGRAHA EVENT IN BIHAR'S MOTIHARI: HIGHLIGHTS
01:18 pm: It has been revealed in studies that the children of 'open-defecation free' villages are leading a healthy life.
01:14 pm: There are people who fear the empowerment of poor, as this will obstruct them from misleading the poor and the weaker sections of the society.
01:12 pm: PM Narendra Modi attacks Opposition at Satyagraha Se Swachhagraha event in Bihar, says they are those who are unable to accept the development of the country and of the poor.
01:11 pm: We are also covering health benefits for the people of the country, which have already been stated in the presentation of this year's budget.
01:10 pm: Today, I have inaugurated a new train 'Champaran Hamsafar Express', which will run from Bihar's Katihar to Old Delhi.
01:08 pm:  We are also focussing on improving the connectivity between states by constructing a number of highways.
01:06 pm: Crores of families in the country have been provided with gas cylinders and this is raising the demand of more cylinders in the country.
12:59 pm: The Central government is helping the state government of Bihar in every development work that is being undertaken in the state.
In the last one week, more than 8,50,000 toilets have been constructed in Bihar. This is a great achievement. I congratulate the people, the 'Swachhagrahis' and the State Govt for this: PM Modi at #SatyagrahaSeSwachhagraha event in Motihari pic.twitter.com/cuSIrz3Ilv

— ANI (@ANI) April 10, 2018
12:55 pm: I have noticed that the number of women participating in this campaign is larger than that of men.
12:52 pm: We have constructed a number of toilets in Bihar and this indicates the pace of development in the state.
12:51 pm: I am glad that the people of Bihar have once again shown the spirit of oneness for the Swachhta campaign.
12:50 pm: Bihar is the state that transformed Mahatma Gandhi into 'Bapu'.
Pichle 100 varsh mein Bharat ki teen badi kasautiyon ke samay Bihar ne desh ko raasta dikhaya, jab desh ghulami ki zanjeeron mein jakda hua tha, to Bihar ne Gandhi ji ko Mahatma bana diya, bapu bana diya: PM Modi in Motihari(Champaran) at #SatyagrahaSeSwachhagraha event. pic.twitter.com/GFgcpRrlQi

— ANI (@ANI) April 10, 2018
12:49 pm: I watched a presentation on the cleanliness drive today and it explains in detail, the steps we should take to take this campaign forward. 
12:46 pm: I salute the spirit of Mahatma Gandhi present inside every individual today: PM Modi at the Satyagraha Se Swachhagraha event in Bihar's Motihari?
12:41 pm: PM Narendra Modi addresses Satyagraha Se Swachhagraha event in Bihar's Motihari
11:10 am: PM Modi pays tribute to Mahatma Gandhi in Bihar's Motihari.
Prime Minister Narendra Modi pays tribute to Mahatma Gandhi in Bihar's Motihari. He will address #SatyagrahaSeSwachhagraha event shortly. pic.twitter.com/7DkWCAqVW9

— ANI (@ANI) April 10, 2018
10:45 am: The prime minister was received at the airport by Bihar Governor Satya Pal Malik, Chief Minister Nitish Kumar, Union Minister Ram Vilas Paswan and several senior BJP leaders.
10:30 am: The projects in Patna include the laying of a 376.12-km sewer network in Saidpur and the Pahari sewerage zones, an official statement said.
Patna: PM Narendra Modi arrives in Bihar, he will lay foundation stone for various projects in the state and speak at a Swacch Bharat Abhiyan event. He was received upon arrival by Governor Satyapal Malik and CM Nitish Kumar pic.twitter.com/y3MC7kw0Hc

— ANI (@ANI) April 10, 2018
10:21 am: The theme of the centenary celebrations of the Champaran Satyagrah is "Satyagrah se Swachhagrah".
10:17 am: Modi will also address 20,000 Swachhagrahis (ambassadors of cleanliness) as part of the concluding ceremony of centenary celebrations of the Champaran Satyagraha.
10:02 am: Modi will also unveil several development projects which includes inauguration of Motijheel Project, Bettiah Nagar Parishad water supply scheme under Atal Mission for Rejuvenation and Urban Transformation (AMRUT), doubling of Railway lines between Muzaffarpur and Sagauli, and Sagauli and Valmikinagar and flagging off of first 12000 HP Freight Electric Locomotive and Champaran Humsafar Express.