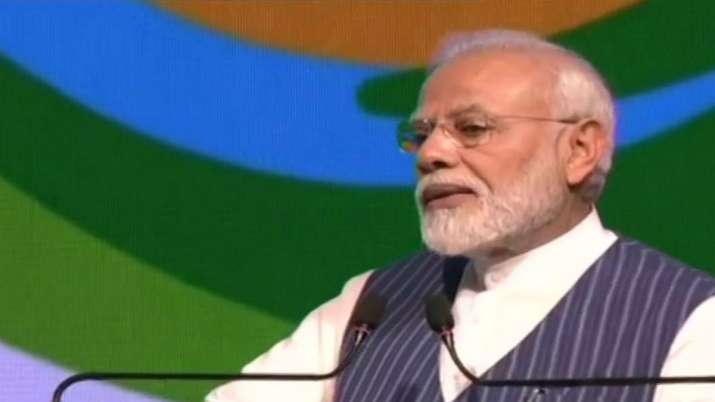 Prime Minister Narendra Modi is addressing the 14th Conference of Parties (COP14) to United Nations Convention to Combat Desertification (UNCCD) being held in Greater Noida, Uttar Pradesh. 
12:16 pm | "It would make you happy that India has been able to increase its tree cover. Between 2015 to 2017, India's tree and forest cover has increased by 0.8 million hectares."
12:15 pm | "I would like to announce that India would raise its ambition of the total area that would be restored from its land degradation status, from 21 million hectares to 26 million hectares between now and 2030."
12:09 pm | "My government has announced that India will put an end to single-use plastic in the coming years. I believe the time has come for even the world to say good-bye to single-use plastic."
12:04 pm | "When we address degraded lands, we also address water scarcity. Augmenting water supply, enhancing water recharge, slowing down water run-off and retaining moisture in the soil are all parts of holistic land and water strategy."
12:02 pm | "Climate and environment impact both biodiversity and land. It's widely accepted that the world is facing the negative impact of climate change. It is also leading to land degradation be it due to rise in sea levels&wave action, erratic rainfall& storms, sand storms caused by hot temperatures." PM Modi said. 
12:00 pm | "India looks forward to making an effective contribution as we take over the COP Presidency for a two-year term." says PM Modi.
The official Twitter handle of the Prime Minister's Office had tweeted on Sunday, "At 11:15 AM tomorrow morning, PM @narendramodi will address the 14th Conference of Parties (COP14) to UNCCD being held in Greater Noida, Uttar Pradesh. This conference will add to the global discourse on issues relating to the environment, especially land management".
In another tweet, the PMO said, "This Conference is being held at a time when India has assumed the COP Presidency for two years. India has had the honour to host the COP of all three Rio conventions on climate change, biodiversity and land."
Speaking ahead of the key convention, the Executive Secretary of UNCCD, Ibrahim Thiaw, told reporters "good announcement" is expected from PM Narendra Modi on what India wants to do to fight desertification at the meeting.
"The Prime Minister is expected to make his statement on Monday. I cannot tell you more. Please stay tuned. The Prime Minister will make his announcement. We are expecting a good announcement there," Thiaw was quoted as saying by news agency PTI.
India is hosting the 14th Conference of Parties (COP) at India Expo Mart Limited in Greater Noida. Around 197 countries are expected to participate in the conference. 
UNCCD was adopted in Paris on June 17, 1994, and was ratified by 196 countries and the European Union. India ratified the UNCCD Convention in 1996.
The other two Rio Conventions that emerged as a major outcome of the 1992 Rio Earth Summit were the United Nations Framework Convention on Climate Change (UNFCCC) and the Convention on Biological Diversity (CBD).
ALSO READ: We know how to take challenges head-on: PM Narendra Modi
ALSO READ: Congratulations to Modi government on 100 days of 'no development': Rahul Gandhi