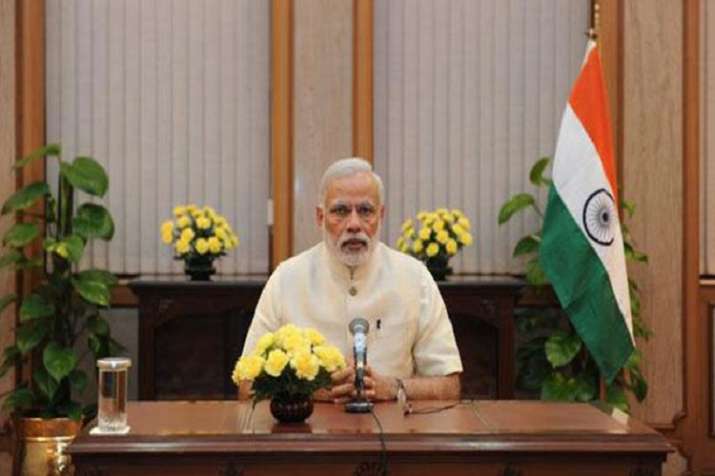 Prime Minister Narendra Modi is addressing the 51st edition of his monthly radio programme Mann Ki Baat. The address, is being aired on DD National and DD News. During the programme, Prime Minister Modi shares his ideas and answers to questions received from across the country.
Last month, the Prime Minister delivered 50th address in which he talked about how radio "truly connected with the masses and that it was a mighty means of getting across".
HERE ARE THE HIGHLIGHTS OF MANN KI BAAT
WATCH VIDEO:
11:22 am: PM Modi talks about importance of Kumbh Mela. "Kumbh Mela is beginning from Jan 15 in Prayagraj. Kumbh is huge as well as divine. UNESCO listed Kumbh in Intangible Cultural Heritage of Humanity last year," he says.
11:18 am: Year 2018 saw launching of world's biggest health insurance scheme 'Ayushman Bharat'. Electricity reached each & every village of the country this year: PM Modi
11:17 am: After Independence, for the first time ever, the tricolor was hoisted at Red Fort on the 75th anniversary of the formation of the Azad Hind Government: PM Modi
11:15 am: In honour of Sardar Vallabhbhai Patel who bonded the entire country around a common thread of unity, India witnessed the coming up of the tallest statue in the world, 'Statue of Unity':  PM Modi
11:14 am: Country secured a place of pride & glory in the entire world. The highest United Nations Environment Award 'Champions of the Earth' was conferred upon India: PM Modi
11:13 am: India clinched a large number of medals in Asian Games and performed very well in Para Asian Games too. If I continue enumerating examples of Purusharth, character & mettle of Indians, or those of our collective endeavour, this episode of Mann Ki Baat will go on and on, says PM Modi.
11:08 am: In his monthly address via 'Mann Ki Baat', PM Modi said that the top world's rated agencies have accepted that, India is pulling its people out of poverty.
11:03 am: PM Modi highlights the free services given out by doctors at Bijnor. The Prime Minister also said that over 100 people were benefitted by the free camps.
In its previous episodes, he has covered issues of social, national as well as international implication: education of the girl child, tackling exam stress, climate change and drug menace.
In his last address, the prime minister said he deliberately kept "politics" out of his monthly radio address as the programme was about the aspirations of the people and not his or the government's achievements.
During his last address, PM Modi talked about how radio "truly connected with the masses and that it was a mighty means of getting across".
"In terms of the reach & depth of communication, radio has been incomparable. I have been nursing that feeling ever since, acknowledging its power & strength. Hence when I became the Prime Minister, it was natural for me to turn towards a strong, effective medium," the prime minister said while responding to a question on why he choose radio over other means such as social media and mobile apps.
Explaining why he began the monthly programme, the Prime Minister said that it was his wish to reach out to the masses with the great story of India. "From remote villages to Metro cities, from farmers to young professionals … the array just prompted me to embark upon this journey of 'Mann Ki Baat'," he said.