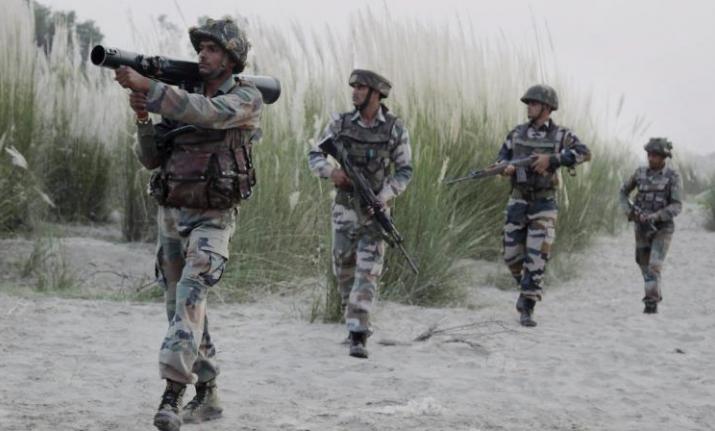 In a strong reply to the  unprovoked firing from the Pakistani side along the International Border in Jammu and Kashmir, the Border Security Force (BSF) has gunned down at least eight to ten Pakistani rangers since Friday. Not just security forces, but innocent civilians were grossly targeted by Pakistani forces. 
In BSF's retaliatory fire, about 8-10 Pakistani rangers are believed to be shot dead with over 12 injured since Friday.  Several Pakistani posts were also destroyed in firing by the BSF.
Five civilians were killed and nine others injured as Pakistani troops rained mortars and opened heavy fire on Indian villages and BoPs along the International Border (IB) in Jammu, Kathua and Samba districts on Wednesday. 
Wednesday was the 9th day of continuous firing and shelling by Pakistani Rangers along the IB and LoC in Jammu, Kathua and Samba districts. 
Arnia town, nearly 100 villages deserted as thousands flee Pakistan shelling 
The bustling Arnia border town and nearly 100 border hamlets along the Indo-Pak border now wear an empty look, with over 76,000 villagers abandoning their homes to escape heavy shelling by Pakistani troops. 
Located five km from the International Border (IB), Arnia town, with a population of over 18,500, resembles a ghost town with only a few people and some policemen left each in its adjoining hamlets to take care of animals and guard houses against thefts. 
The life in the border belt along the International Border (IB) has come to a standstill as farming, schooling, cattle rearing and everything else on which border dwellers survive have come to a halt due to shelling episodes. 
Pakistani Rangers plead BSF to stop obliterating its bunkers across border
Border Security Force, which has been giving a befitting reply to Pakistan for unprovoked firing along the international border in Jammu and Kashmir for the past three days, on Sunday received a call from Pakistani Rangers requesting to stop firing, a statement said. 
In the wee hours of Friday, a BSF jawan and four civilians were killed and over a dozen others were injured in Pak firing on the border in RS Pura and Arnia sectors of Jammu. 
The BSF constable who was killed has been identified as Sitaram Upadhyay, while the civilians were identified as Sat Pal, 60, Jag Mohan, 45, Tarsem Lal, 52, and Manjeet Kaur, 45. 
Since the attack, BSF troops have been engaged in the precision firing on Pakistani shooting locations, inflicting heavy losses, a release said today. 
For last three days, the precision fire of BSF troopers on Pak firing locations inflicted a heavy loss on them.
On Saturday, the firing from troopers found their mark with one of the Rangers in the chicken neck area. The security force today released a footage of a target hit (bunker busting) by BSF forward troops.