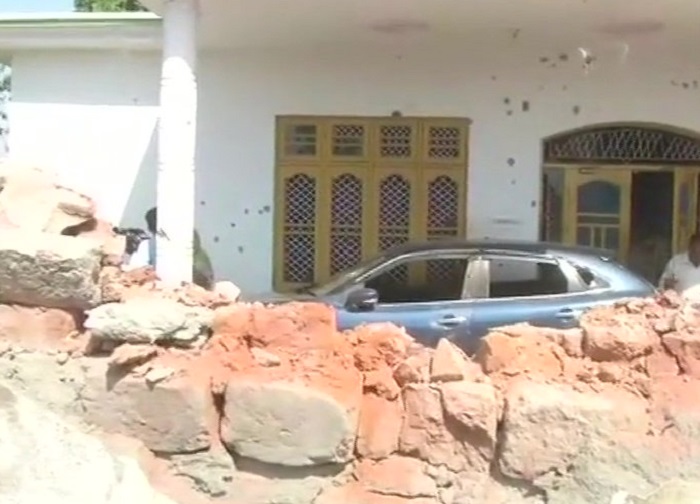 Incessant shelling by Pakistani Rangers along the international border in Jammu and Kashmir has killed five civilians and left several others injured in attacks on villages and Border Outposts. 
A senior police officer said two civilians were killed and six injured in the shelling and firing in Samba that started at 9 AM. 
Pakistani Rangers also targeted civilian areas and posts in Kathua district. 
"There was heavy firing and shelling on civilian areas and posts along the IB in Hiranagar sector of Kathua district before dawn", a senior police officer said.
In the firing and shelling, three persons were injured and one of them succumbed to injuries on way to hospital, he said adding the injured have been admitted to hospitals. 
He said over 100 border dwellers have been evacuated and put in safe shelters and an operation to evacuate others is going on with use of bullet proof vehicles. The shelling is going on, he said. 
In R S Pura, Arnia, Bishnah of Jammu district and Ramgarh and Samba sectors firing and shelling is going on since last night. 
"In heavy shelling by Pakistan this morning, a civilian was killed in R S Pura sector and another injured in Arnia sector", a police officer said. The injured person later succumbed to injuries. 
Large number of people have been evacuated from various villages in these sectors since last night, he said. 
Yesterday, 20 civilians were injured when Pakistani troops shelled Indian villages with mortar bombs. 
Here are the LIVE Updates: 
4:00 pm: Total 5 civilians killed, 10 others injured in Pak shelling 
3:44 pm: 
Jammu & Kashmir: Three Border Security Force personnel were injured in ceasefire violation by Pakistan in Samba sector pic.twitter.com/ncEejX59MU

— ANI (@ANI) May 23, 2018
3:38 pm: 
Jammu & Kashmir: Houses damaged in ceasefire violation by Pakistan in Samba's Ramgarh pic.twitter.com/VE7TBW4P6O

— ANI (@ANI) May 23, 2018
12:37 pm: One more civilian killed in RS Pura sector, total civilian casualties in Pak firing today reaches 5 
10:46 am: Two more civilians killed in Pak firing in Samba sector International Border area. The death toll has reached eight civilians and two BSF jawans within last seven days.
10:25 am: 
Houses and cars damaged after heavy shelling from Pakistan in RS Pora sector #JammuAndKashmir pic.twitter.com/oN6djfxZKX

— ANI (@ANI) May 23, 2018
10:42 am: Gallantry Awardee BSF Constable Ramdhan Gurjar says, "There is no point in trusting Pakistan. They may talk to you during the day and say ceasefire but they will go back to shelling and target civilians during the night."
09:43 am: Another civilian killed in RS Pura
09:00 am: Official statement on injuries: "Pakistani Rangers targeted the populated areas of Hiranagar sector and a heavy shelling hit the border village Londi and a mortar land in the house of Ram Pal today morning. Which caused the serious injuries to three people in the house.
Three persons injured in cross-firing are:
1. Ram Pal S/o Tillo Ram R/o Londi age 50-52 yrs.
2. Sudesh Kumari W/o Ram pal R/o Londi age 47 yrs.
3. Shiv Darshan S/o Dharam Chand R/o Londi age 49 yrs. 
During the cross firing, a mortar shell fell at the house of Ram Pal. Out of these three, Ram Pal was seriously injured. They all were referred to GMC Jammu and Ram pal is succumb to his injuries on the way to Jammu." 
Till yesterday, 20 civilians were injured as Pakistani troops. Hundreds of panic-stricken villagers fled their houses and took shelter either at the houses of relatives or relief camps set up by the government at safer places.
All educational institutions in the affected areas remained closed.
"The Pakistan Rangers indulged in the heavy and indiscriminate shelling of mortar bombs and firing of small arms and automatic weapons tonight, targeting villages in the Ramgarh and Samba sectors," a police officer told PTI.
Fifteen persons - 13 in the Ramgarh sector, two in the Samba sector - were injured in the firing and shelling in Samba district, he said, adding that of them, 11 were sent to the GMC Hospital in Jammu, while the remaining four were admitted to hospitals in the district.
Earlier, five persons were injured in Pakistani shelling in Jammu district.
While Kaushalya Devi (70), Madan Lal Bhagat (48), Des Raj (52) and Thudu Ram (65) were injured in the Arnia and R S Pura sectors of Jammu district, Aman Singh (22) of Bobiyan village was injured in the Hiranagar sector of Kathua district, officials said.
They added that the firing from across the border was intense as 80 mm and 120 mm mortar shells hit dozens of villages, including Jora Farm - a hamlet of milkmen - in the morning.
However, emergency services personnel managed to reach the villages along the IB, despite the shelling, the officials said.
They added that the firing had stopped at most of the places in the afternoon, but was still going on intermittently at a few places in Samba district.
Earlier in the day, a senior Border Security Force (BSF) official said the firing and shelling had continued unabated throughout the night and spread to all the sectors - from Akhnoor to Samba - along the border.
He added that the Pakistan Rangers suffered several casualties with a number of its bunkers getting hit during the skirmishes.
The latest round of shelling had started on May 15, when the BSF foiled two infiltration attempts by Pakistan-backed infiltrators in the Samba sector, and intensified after Pakistan "pleaded" with the BSF to stop firing, after being pounded with heavy artillery that left a trooper dead across the border on May 20.
So far, eight persons, including two BSF jawans and an infant, have been killed and 22 others injured in the Pakistani firing.
Jammu and Kashmir has witnessed a spurt in Pakistani shelling and firing along the IB and the Line of Control (LoC) this year.
Over 700 such incidents have been reported so far this year, which have left 39 people, including 18 security personnel, dead and scores injured.
(With inputs from PTI)