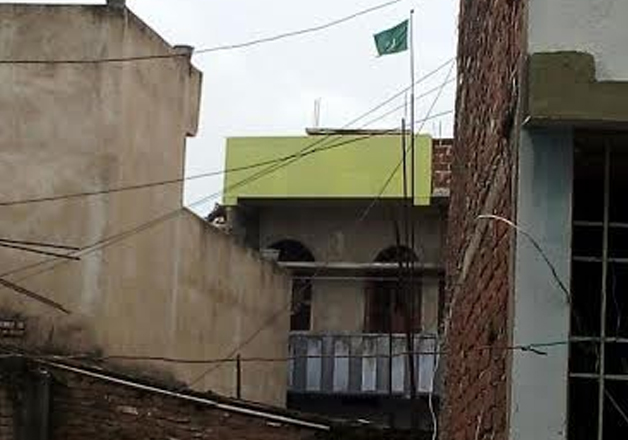 Nalanda: Days after pro-Pakistan slogans were raised in Patna, a Pakistani flag was today hoisted in Bihar Chief Minister Natish Kumar's home district Nalanda.
The incident happened at ward no. 36 in Kharadi locality in Biharsharif town. Locals spotted a Pakistani flag atop a house owned by Anwarul Haq.
After getting information, Sub-Divisional Officer (SDO) Sudhir Kumar and Deputy Superintendent of Police Mohammad Saifur Rahman rushed to the spot and seized the flag from family members.
The family had already removed the flag before officials reached the place. Later, the officials took the flag with them.
SDO Sudhir Kumar said the matter is being investigated, including veracity of the flag, whether it was actually the national flag of Pakistan.
"We are hoisting this flag on the occasion of Muharram for past five years," Shabana Anwar, Haque's daughter, said.
Haque is engaged in business of supply of tent and furniture on special occasions. Neither an FIR has been lodged nor anyone has been arrested or detained in this connection so far, the SDO said.
As the news flashed on TV channels, opposition attacked the Nitish Kumar government over the episode. Senior BJP leader CP Thakur demanded stern action into the matter.
Hindustani Awam Morcha (HAM), an ally of BJP, spokesman Danish Rizwan said, "Efforts are on to turn Bihar into Jammu and Kashmir. The centre should intervene immediately to stop such anti-national activities in Bihar."