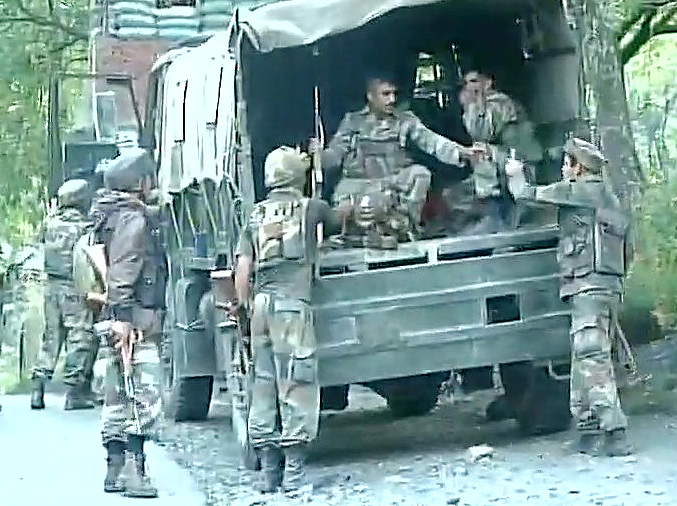 Indian troops have gunned down at least ten terrorists in the Uri sector of Jammu & Kashmir, just two days after a ghastly terror attack at an army base saw 18 soldiers martyred. The firing is still on and there are reports of another five-six militants still hidden.
Though there has been no official confirmation on the number of militants being killed, reports put the number at atleast ten. 
As per army sources, soldiers became apprehensive about a possible infiltration bid after Pakistani troops resorted to unprovoked firing at forward Indian posts today afternoon.
"It became clear that a cover was being provided to infiltrators from Pakistan. Indian soldiers returned the fire and kept vigil around to monitor any cross border movement. A group of armed infiltrators was immediately spotted," the source said.
"There were at least 15 who tried to cross over. Five of them were killed."
The source said the Pakistani fire from small and automatic arms targeting Indian posts in Lachhipora and Boniyar villages of the border area caused no damage to Indian posts. 
Pakistan is often accused of firing at Indian posts to give cover to infiltrators
The firing violates the 2003 cease-fire agreement between India and Pakistan along the international boundary and the LoC -- the de facto border that divides Jammu and Kashmir between the two neighbours.
According to the Indian Army, infiltration attempts from across the border with Pakistan have increased this year in comparison with the past three to four years.
In 2016, there have been 18 infiltration bids foiled by the Indian Army.
Some 110 militants were killed and 31 of them were gunned down near the LoC.
On Sunday, Pakistani terrorists attacked an Indian Army camp at Uri along the Line of Control which left 18 soldiers dead and over 3 injured.
All four attackers were killed and identified by the Army as being part of the Jaish-e-Muhammed.
Prime Minister Narendra Modi assured the country that those behind the attack "will not go unpunished".
Home minister Rajnath Singh has pointed fingers at Pakistan, calling it a "terrorist state" and condemning its "continuing and direct support to terrorism and terrorists".
The Army yesterday said it reserves the right to respond to any act of the adversary "at a time and place of own choosing."