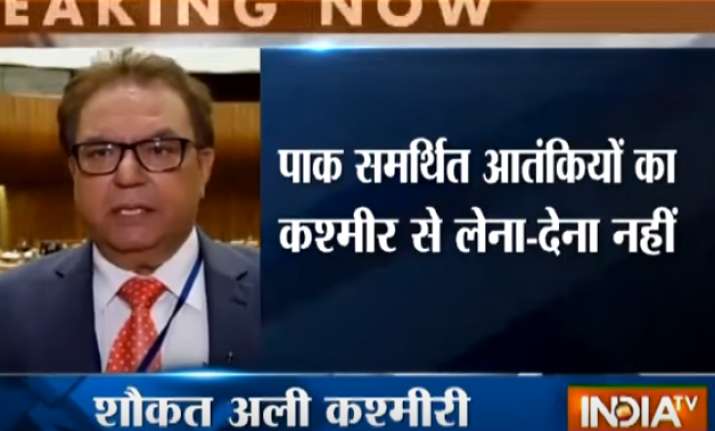 New Delhi: Exiled leaders from Pakistan occupied Kashmir (PoK) and Gilgit-Baltistan have accused Pakistan for providing terrorists safe haven and allowing use of its soil as a launching pad for militants.
While protesting on the sideline of an UN event in Geneva, Shaukat Ali Kashmiri, the secretary general of United Kashmir People's National Party (UKPNP), lambasted Pakistan for its oppressive policies and human rights violations in PoK and Gilgit-Baltistan.
"On the one side, Pakistan says it is fighting a war against terrorism, but on other side, LeT terrorists are roaming freely and extremists are rallying every day, the Jaish-e-Mohammad is operating, and the Jihad Council, the outfit which has claimed (responsibility for) the Pathankot attack, these are all benefitted by the state," he said.
Stating that there are certain Talibani leaders who have the backing of the Pakistan government, he said, "So, this is not the right way to fight against terrorism that you adopt the policy of pick and choose."
"In PoK, the terrorist infrastructure is still intact and we always say that this region has been used as a launching pad for terrorist activities. I firmly believe that terrorists will not make Kashmir free," he added.
The leader, who is now living in living in exile, also pointed out that establishing military courts in disputed territory of PoK and Gilgit-Baltistan is a clear violation of United Nations Commission for India and Pakistan (UNCIP) resolutions on Kashmir.
Shaukat was joined by few other leaders from PoK and Gilgit-Baltistan at the protest site. They all strongly criticised Pakistan's worst human rights atrocities in the region. The leaders also opposed the China Pakistan Economic Corridor (CPEC) calling the multi-million dollar project as a design by Pakistan and China to exploit their resources.
Exiled Baloch leader Mahran Marri said it the responsibility of the United Nations to take note of the human rights violations being faced by people in Punjabi dominated Pakistan. "We are standing united and appeal to the UN to take a note of the human rights violations in Pakistan," Marri said.
Chairman of Gilgit Baltistan Thinkers Forum, Col. (Retired) Wajahat Hasan Mirza said, "In Gilgit Baltistan all black laws are being enforced, the anti-terrorist courts and military courts are acting against the political activists and leaders."
"The purpose of this protest is to make UN and the international community aware of these human rights violations, and to request them to save us from these atrocities," Lakhu Luhana, Chairman of World Sindhi Congress, said.
The protesters also submitted a petition in the United Nations office in Geneva demanding an end of atrocities by Pakistan.