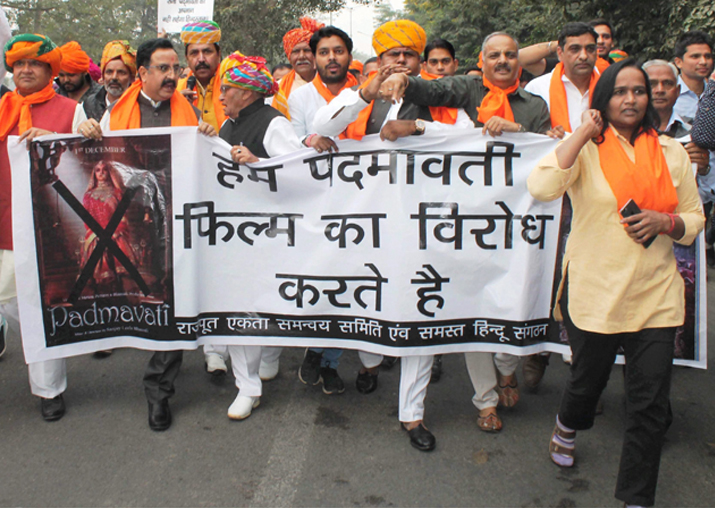 As the row over Padmavati continue to hit the headlines, the Centre today said that that Central Board of Film Certification (CBFC) has a job which it should be allowed to do.
Union Information and Broadcasting Minister Rajyavardhan Rathore, however, suggested that the censor board should be allowed to do its job. 
"The CBFC has been formed for a purpose. Let it do its job," the minister said responding to a volley of questions by reporters. 
Another senior Union minister, Birender Singh, said that those opposing 'Padmavati' should first watch the film. 
"My opinion is very clear. Some of the historic facts may not be in consonance with our thinking...Those who are opposing, first they should see the movie. If they find something which hurts them, (they can ask the producers to) remove those (parts)," Singh said.
On the other hand, UP Chief Minister Yogi Adityanath – who was in Gorakhpur today, said that filmmaker Bhansali was no less guilty than those giving threats to the movie's crew. He alleged that Bhansali was "habitual of playing with public sentiments".
"If there is any action, it will be against both the sides," the priest-turned-politician said, as he attacked Bhansali. 
No one has the right to take the law into own hands whether it is Sanjay Leela Bhansali or anyone else, Adityanath said. 
"I feel that if those issuing threats are guilty, Bhansali is no less guilty," he told reporters. 
Adityanath's Rajasthan counterpart Vasundhara Raje, meanwhile, again said that the film would not be allowed to screened in her state, unless the "necessary" changes as suggested to the Centre were made. 
Meanwhile, actor Ranveer Singh said that he had been asked not to say anything about the movie but was "200 per cent" behind director Bhansali. 
"I stand 200 per cent with the film and Mr Sanjay Leela Bhansali. Given the sensitive times right now, I have been asked to not say anything, whatever in regards to the film. Anything that needs to be (said) you will receive from the producers," he said. 
Film director Sudhir Mishra said a filmmaker's right to express is as fundamental as a person's right to protest. 
"As a industry we stand by each other defending our right to make films. And if any one has any problem with the film they are free to express as we live in a democracy. But you can't take away my right to express as a filmmaker as well. It is as fundamental as expressing protest and that's all we are saying," Mishra said on the sidelines of IFFI Panorama Section inauguration in Panaji. 
Scriptwriter Apurva Asrani said an artiste's interpretation of a historical or mythological work has a right to exist, irrespective of the content. 
"I find the need to offer explanations like 'Have you even seen one shot of Padmavati before calling for a ban/beheading' quite ridiculous and extremely self defeating," said Asrani in a Facebook post. 
The film 'Padmavati' has been mired in controversy which has snowballed into a massive row over its content. 
Amid rumours that there was a romantic dream sequence between Padmavati and Alauddin Khilji's characters, many groups have been protesting against the movie, alleging that it distorts history. Historians are, however, divided on whether Rani Padmavati even existed.