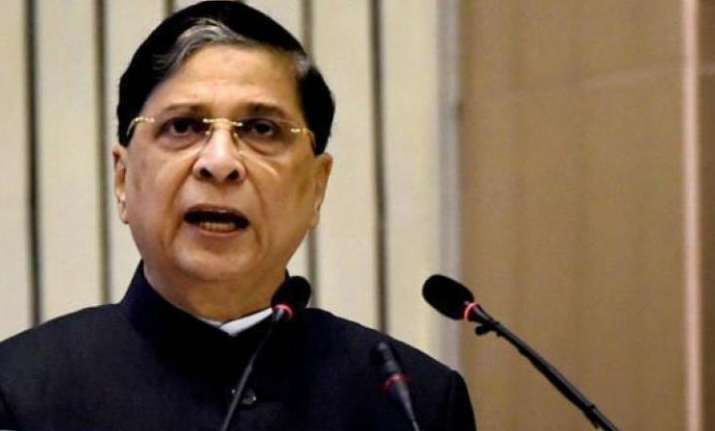 Opposition parties including the Congress, Trinamool Congress, Nationalist Congress Party and Samajwadi Party have been deliberating over bringing an impeachment motion against Chief Justice of India Dipak Misra in the Rajya Sabha, news agency ANI reported.
There has been an opinion among some opposition parties that key issues raised by the four senior-most judges concerning the functioning of Supreme Court have not been addressed. The four senior-most judges had complained about arbitrary allocation of cases in the Supreme Court at a press conference on January 11. 
Supporting the Opposition's proposal, Samajwadi Party leader Ghanshyam Tiwari said, "The Samajwadi Party stands with the impeachment motion, which is about bringing independence and unquestionable integrity to the judiciary."
Confirming the development, NCP leader Majeed Memon said, "The Congress as the largest opposition party has belatedly initiated the proceedings for impeachment of the Chief Justice of India." 
Asked how many MPs have signed the notice so far, he said he was just a signatory to it and the question be posed to the Congress. 
On Tuesday, Nationalist Congress Party leader DP Tripathi had said that that some opposition parties have started putting signatures on a draft proposal for moving an impeachment motion against the CJI. "I have signed it and others are also signing it and the process is going on." 
He said it is not just corruption, but "the charges are far more serious" and it emanates from the letter that four senior-most judges of the Supreme Court had earlier written stating that there was danger to the independence of judiciary. 
Tripathi confirmed that among the signatories to the notice were members of NCP, CPI-M, CPI and others, and indicated that some Congress leaders too signed it. "Some opposition parties have started putting their signatures on the draft proposal," he said. 
To move an impeachment motion against the CJI, signatures of 100 MPs are needed in Lok Sabha and in Rajya Sabha, signatures of 50 members are required.
- With agency inputs