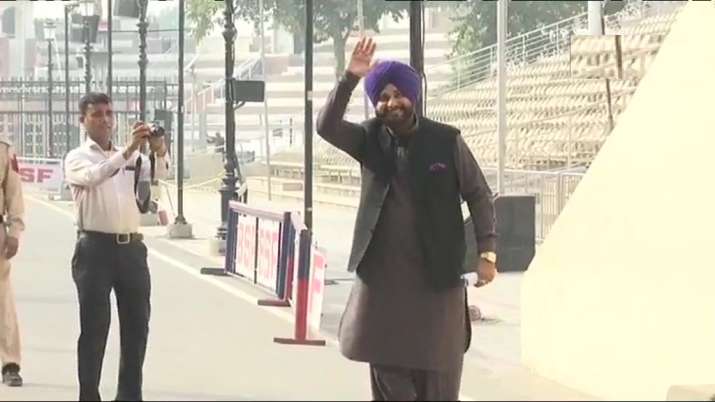 Congress leader and Punjab legislator Navjot Singh Sidhu on Tuesday crossed Attari-Wagah border to attend the ground breaking ceremony of Kartarpur Corridor on Pakistani side by the neighbouring country's Prime Minister Imran Khan tomorrow. 
The Congress leader was invited by Pakistan Foreign Minister Shah Mahmood Qureshi for the ceremony. Apart from Sidhu, two Union minister - Harsimrat Kaur and Harpreet Puri will also attend the ceremony on behalf of the Government of India. 
Pakistan had also extended an invitation to Minister of External Affairs Sushma Swaraj and Punjab Chief Minister Amarinder Singh, but they declined. 
The inauguration of the Pak-side of the corridor comes two days after Vice President M Venkaiah Naidu and Punjab Chief Minister Amarinder Singh laid the foundation stone for the pilgrim route on the Indian side. Sidhu had chosen to stay away from the Indian event. 
"There are some things which are away from the politics. I was never into any credit war -- not today and will never be in future either," Sidhu had told reporters, when asked why did he stay away from the event.
"We do politics from dias. It is a matter of religion. A passage is going to be built which will bring peace and prosperity. I have been saying from the day one that one should not make political capital out of a matter of religion," said Sidhu.
Punjab's Tourism and Cultural Affairs Minister Sidhu had been pitching since long for the Kartarpur corridor. It will facilitate Sikh pilgrims to visit and return from the the historic Gurdwara the same day without any passport or travel document.
Gurdwara Darbar Sahib Kartarpur in Pakistan was built to commemorate the site where Guru Nanak Dev, the Sikhs first guru and founder of Sikhism lived for 18 years until his death in 1539.
It is a gift to the entire 'sangat' on the occasion of the 550th Parkash Purb (550th birth anniversary) celebrations of Guru Nanak Dev for which he had come to thank the Almighty, he said. 
The decision to build passage from Dera Baba Nanak in Gurdaspur district to the International Border was taken by the Union Cabinet on November 22.
Gurdwara Darbar Sahib Kartarpur is located on the banks of the Ravi river, in Pakistan. 
Pakistan Prime Minister Imran Khan will be inaugurating the ground-breaking ceremony of the Kartarpur Corridor, on the Pakistani side on November 28. 
(With inputs from PTI)