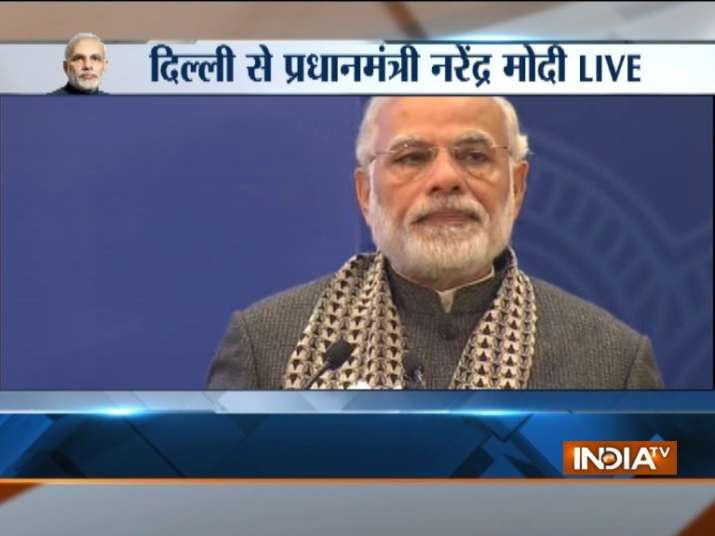 Prime Minister Narendra Modi will inaugurate the first Persons of Indian Origin (PIO) Parliamentary Conference in the 'Pravasi Bharatiya Kendra' at Delhi's Chanakyapuri today. 
As many as 124 Members of Parliament (MPs) and 17 mayors from 23 countries will participate in this conference. No lawmaker from the US will be attending the event because of the ongoing session of the Senate.  
The event is scheduled to commence at 10 am with External Affairs Minister Sushma Swaraj's speech, while PM Modi will be the keynote speaker. 
Here are the highlights:
11:37 am: We do not intend to exploit anyone's resources, nor we are eyeing anyone's territory, our focus has always been on capacity building & resource development: PM Modi
11:32 am: 21st century is being considered the Asian century & India will be a major player in this with the growing stature of our country and you shall feel proud about our growth, hence inspiring us to work even harder: PM Modi
11:26 am: Sushma Swaraj ji not only takes care of Indian citizens but also the NRIs, under her our Ministry of External Affairs keeps an eye on problems of NRIs 24 by 7 with real time monitoring system: PM Modi
11:24 am: The action plan prepared by Niti Aayog till 2020 has a special focus on Indian diaspora: PM Modi
11:22 am: We have introduced far-reaching reforms. Reforms to transform, this is our guiding principle: Pm Modi
11:21 am: During earthquake in Nepal, flood in Sri Lanka, water problems in Maldives; India was the first to respond. When crisis struck Yemen, we saved our 4,500 people as well as 2000 others. India's humanity even in grave situations like these is a part of Vasudhaiva Kutumbakam: PM Modi
11:20 am: Thousands of Indian soldiers laid down their lives in the two World Wars, although India did not eye an inch of foreign territory: PM Modi
11:17 am: More than half the investment in sectors like construction, air transport, mining, computer software, hardware, electrical equipment & many others, till now has happened in the last three years: PM Modi
11:14 am: Keeping in mind the needs of 21st century, the government is increasing the investment in technology, transportation
11:13 am: No matter where they are, I can imagine how happy your ancestors must be on seeing you all here: PM Modi
11:12 am: India has moved way ahead of the 'jaisa pehle tha vaisa chalta rahega, kuch badlega nahi' thinking, aims & aspirations of our people are on an all time high & that is because of the transformation the country is going through: PM Modi
11:07 am: Today, bodies like the World Bank, IMF & Moody's are looking at India in a very positive way: PM Modi
11:05 am: When there is news about how you all are influencing the geo-politics of where you live & how you are making policies, we feel proud: Pm Modi
11:02 am: A 'mini world Parliament' of people of Indian origin is sitting in front of me: PM Modi  
10:59 am: No matter where they are, I can imagine how happy your ancestors must be on seeing you all here: PM Modi
10:43 am: Mahatma Gandhi, India's biggest pravasi, came back from South Africa on January 9. This is why we celebrate PBD on this day: Sushma Swaraj 
10:17 am: 
India is changing very fast & people overseas are recognising it. If we give chance to NDA to fulfill their programmes, India would be much better. In previous govt, every day there was a scam, but in this govt, I haven't heard of any: Raj Loomba, Member of the House of Lords, UK pic.twitter.com/1jmxdEMjDX

— ANI (@ANI) January 9, 2018
10:11 am: 
This (PIO Parliamentary Conference) is a great opportunity. Everyone is looking up to India for their support. India has a huge influence on International politics: Kanwaljit Singh Bakshi, New Zealand MP in #Delhi pic.twitter.com/ejKTT9HDTH

— ANI (@ANI) January 9, 2018
Every year, January 9 is celebrated as Pravasi Bharatiya Divas (PBD), an annual celebratory day that marks the celebration of overseas persons of Indian origin (PIO) towards their homeland. 
The Ministry of External Affairs (MEA), in order to celebrate the spirit of the conference, has also organised an open competition to design a logo that would best reflect the spirit of the First PIO Parliamentarian Conference.