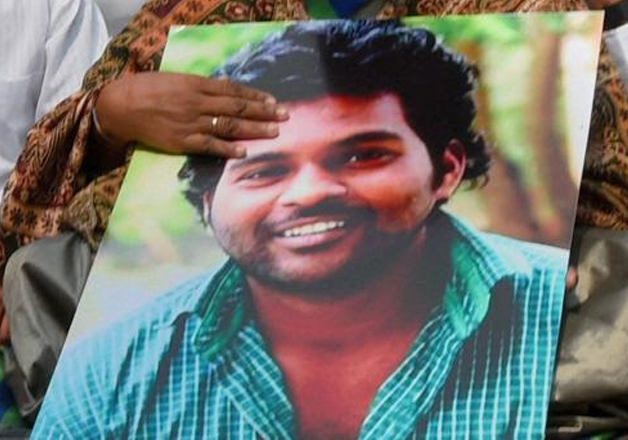 An old video of the University of Hyderabad (UoH) research scholar Rohith Vemula, who allegedly committed suicide in January, has surfaced yesterday in which he claims his Dalit identity.
"Jai Bhim to all. My name is Rohith Vemula. I am a Dalit coming from Guntur district. I have been a student of University of Hyderabad since 2010. Now I am doing PhD in social science department," he says in the purported video. 
In the video, appeared to have been shot at a tent (named as Dalit ghetto) near the Shopcom area in the University where Vemula and his other colleagues had stayed following their suspension, Vemula talked about himself and his background.
This comes exactly after a week after a Central government commission said that Vemula was not a Dalit.
In the video, Vemula also talked about his suspension, his studies and students activism.
After he committed suicide, his family members, friends besides political parties alleged that he was a victim of caste discrimination.
Students, political parties and social groups had demanded that a Rohith Act be brought to end the alleged discrimination in educational institutions against the students belonging to disadvantaged sections.
In its report, the Justice Roopanwal Commission, set up by Union HRD Ministry, has stated that material on record did not establish that Vemula was a Dalit and attributed his suicide to personal reasons.
The report also gave a clean chit to Union Ministers
Smriti Irani
and Bandaru Dattatreya besides absolving Unversity authorities of any blame for Vemula's death.
The Commission is learnt to have raised questions about Vemula's caste status as a Dalit saying that there is no proof that his mother V Radhika belonged to 'Mala' community.
Through months of protests over Rohith's death, his fellow students accused Irani and Dattatreya of the BJP of pressuring the university to punish the five scholars.
Rohith's family and opposition parties have alleged that the commission's report is an attempt to protect people who drove him to kill himself. 
"It's a report to protect the culprits. They have wrongly gone after his caste to prove us wrong," his mother said.
Vemula's friends said that they have released the video now as they could access it only recently from a laptop that had been seized by the police.