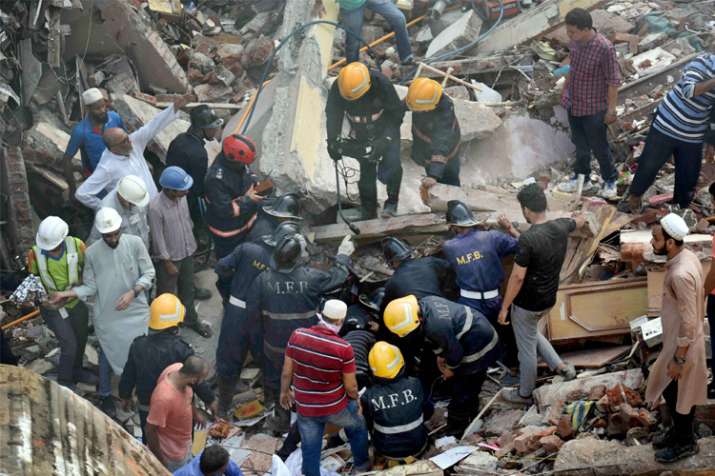 In a terrible incident, a five-storey building collapsed near JJ Junction in Pakmodia street of south Mumbai's Bhendi Bazar this morning. 22 people have died while 34 others, including six fire brigade personnel are injured in the collapse. The incident reportedly took place at 08:45 am today. Rescue and search operations are currently underway.
"It was over a century old and dilapidated like many of the buildings in the locality. But it is not clear whether it is included on the list of dangerous buildings," Shah told mediapersons from the crash site.
According to the Fire Brigade, the building had two wings which have completely collapsed. "30-35 persons are feared trapped," they said. The cause of the crash is not known yet. Ten fire engines, two JCBs, cranes and other machineries were deployed to clear the massive heap of rubble and extricate the victims underneath.
This is the first major building collapse after Tuesday's deluge in the city, and the second in five days after the Chandivali Crystal Business Park crash on August 26, that claimed six lives. 
LIVE updates on Mumbai Building Collapse: 
7:30 pm: Death toll mounts to 22 
05:16 pm: Maharashtra CM Devendra Fadnavis announces an ex-gratia of Rs. 5 lakh for the kin of those who died in Bhendi Bazaar building collapse.
05:11 pm: Action will be taken in case of any negligence: CM Devendra Fadnavis 
05:10 pm: Death toll rises to 19; 12 injured, confirms Mumbai Police: ANI
04:54 pm: CM Fadnavis has ordered a detailed enquiry in building collapse to Additional Chief Secretary (Housing).
04:53 pm: Maha CM Devendra Fadnavis reaches the incident site in Mumbai's Bhendi Bazar 
#MumbaiBuildingCollapse: CM Devendra Fadnavis reaches the incident site pic.twitter.com/FLUOfrXsfp

— ANI (@ANI) August 31, 2017
04:39 pm: Death toll in Mumbai #BuildingCollapse mounts to 16, police say: PTI
03:44 pm: Number of injured persons rises to 34 including 6 fire brigade personnel
03:43 pm: Death toll rises to 15
2:35 pm: 
#UPDATE Bhendi Bazar building collapse: 29 people rescued so far; 10 to 15 still suspected to be trapped, rescue operation underway #Mumbai pic.twitter.com/pktUgN8t9s

— ANI (@ANI) August 31, 2017
2:08 pm: Death toll mounts to 12, more casualties feared
12:40 pm: Death toll rises to 10, 15 including 2 fire officers injured, 25 rescued
11:58 am: Death toll in building collapse rises to seven. 15 people are injured. 
11:20 am: Four dead and 13 injured so far, rescue operations are underway 
11:05 am: 
#UPDATE Bhendi Bazar Building Collapse: Total 12 people have been rescued out of which 5 are critically injured; rescue ops continue #Mumbai pic.twitter.com/rFFiGg0w4G

— ANI (@ANI) August 31, 2017
10:48 am: Three severely injured have been admitted to the nearby JJ Hospital.  
10:41 am: 
#UpdatedVisuals from Bhendi Bazar building collapse site: 30-35 people feared trapped; rescue operations underway. #Mumbai pic.twitter.com/o4j0VsOyRq

— ANI (@ANI) August 31, 2017
10:40 am: Three dead bodies have been recovered so far while eight people are severely injured.  
10:20 am: Another person is reported to have died in the debris of the collapsed building.  
10:10 am: 
#UpdatedVisuals: Ambulances, fire brigade & NDRF team deployed at Bhendi Bazar building collapse site #Mumbai pic.twitter.com/zgikGSOSwu

— ANI (@ANI) August 31, 2017
09:55am- 1 person has died while the number of injured mounts to 5
09:40am- Number of trapped people not confirmed, says Dr Manoj Sharma, DCP Zone 1 
09:35am- Around 30-35 people feared trapped
9:33 am: 
3 people rescued from debris, looking for other survivors. Number of trapped people not confirmed: DCP Zone 1 Dr Manoj Sharma #Mumbai

— ANI (@ANI) August 31, 2017
9:30 am: 
#Visuals Mumbai: 3-storey building collapsed near JJ Junction in Pakmodia street of Bhindi Bazar. 3 people rescued from debris. pic.twitter.com/uenKz74dEt

— ANI (@ANI) August 31, 2017
09:20am- Five-storey Hussaini Building collapses. Several feared trapped