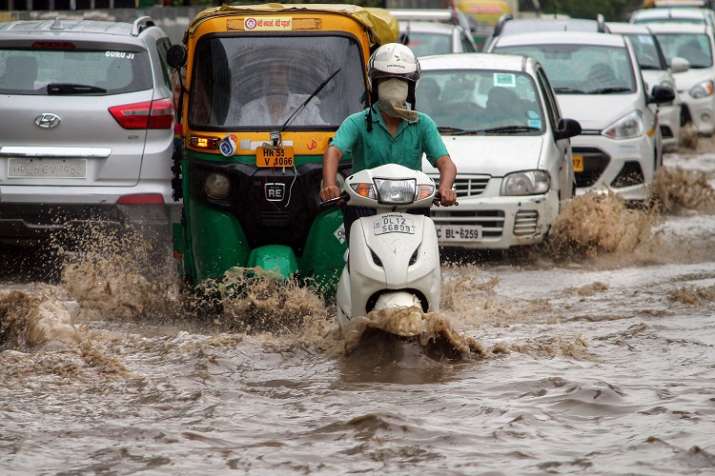 Monsoon rains across north India have wreaked havoc throwing normal life out of gear. Delhi, Uttar Pradesh, Madhya Pradesh, Rajasthan, Himachal Pradesh and Uttarakhand have been receiving incessant rains since last 24 hours triggering a flood-like situation at many places. Uttar Pradesh faced the maximum impact of continuous downpour as the state has reported at least 27 deaths in rain-related incidents.
While 5 people were killed in Agra, Mainpuri reported 4 deaths. Mainpuri, Kasganj, Muzaffarnagar witnessed deaths of three people each. Four people were reported killed in Meerut and Bareilly while Ghaziabad, Hapur, Jhansi, Raebareli and Jalaun reported a death each as heavy monsoon rains continue to lash the region.
Chief Minister Yogi Adityanath directed officials to launch relief and rescue work on a war footing and asked district magistrates of the affected areas to immediately provide necessary monetary help, as per the rules, in cases of house collapse.
Directions were also issued for taking all necessary steps to ensure proper treatment to the injured as the chief minister warned officials that no laxity will be tolerated in relief works.
The MET office said that southwest monsoon was "active" over east Uttar Pradesh and "vigorous" over the western part of the state causing moderate to heavy rain and thundershowers at most places. 
According to officials, chief amount of rainfall recorded in cm were- Mathura- 19, Kasganj- 18, Aligarh- 13, Gautam Buadh Nagar- 10, Barabanki, Badaun, Saharanpur, Firozabad- 9 each, Ravidas Nagar and Gorakhpur- 8 each.
Rains batter Delhi-NCR
Meanwhile, Delhi residents woke up to a rainy morning for the second consecutive day on Friday. Waterlogging and traffic snarls were witnessed at several places forcing the Delhi Traffic Police to issue advisory to alert the commuters. The Yamuna river was flowing near the danger mark.
Waterlogging was reported at Zakir Hussain college, near Ramlila Maidan, and civic centre in central Delhi.  Heavy traffic congestion was reported at RTR Marg in the carriageway from Vasant Kunj towards airport. 
Waterlogging has also caused congestion at Okhla Mandi, Badarpur railway underpass, Under IP flyover, Under Modi mill flyover, Jawaharlal Nehru Road.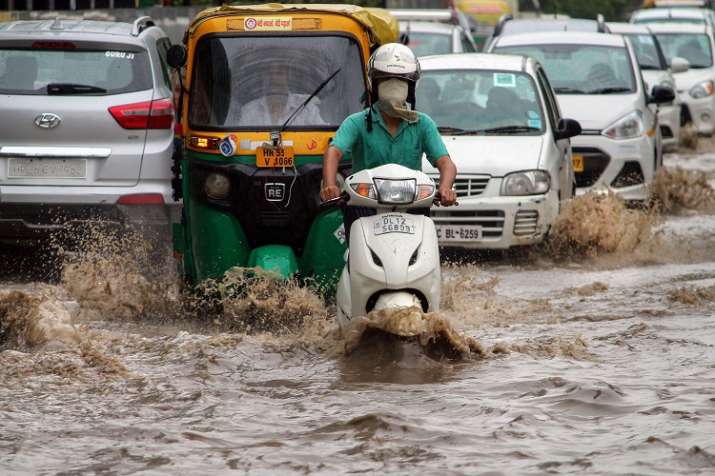 The Ghaziabad magistrate ordered alls schools to remain closed today in view of severe waterlogging that the district witnessed on Thursday. However, schools in Delhi and Noida remained opened today.  
An under-construction three-storey building collapsed in Noida's sector 121 due to heavy rains. Luckily, there were no casualties in the incident as the building had been sealed by the Noida Authorities a few days ago.
Situation worsens in Himachal, Uttarakhand
Reports of landslides have been received from several places in hilly states of Himachal Pradesh, Uttarakhand as monsoon rains continue to batter the region. Mussoorie's famous Kempty Falls has swelled alarmingly forcing the authorities to alert the locals and tourists visiting the site.
The situation is unlikely to improve soon as the weather department has predicted the rains to continue for at least couple of days more.
Uttarakhand, which has experienced moderate to heavy showers in the past 24 hours, has been warned of cloudbursts and landslides.
"Cloudbursts are also possible, which may trigger flash floods and landslides in Uttarakhand," Skye weather has predicted.
All government and private schools in Dehradun will be closed on Saturday because of an alert for heavy rainfall in the region.
WATCH: Heavy rains kill 27 in Uttar Pradesh