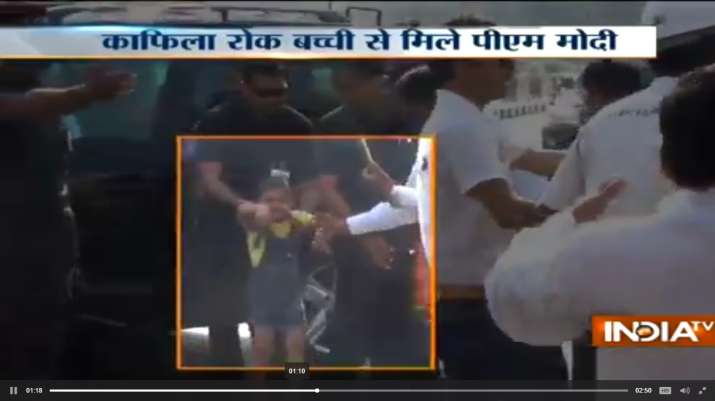 Prime Minister Narendra Modi's fan following is spread across different age groups. While on one hand he is spotted with people commoners consider the high and mighty trying to click a selfie with the social media savvy PM, on the other, he tries not to disappoint the common folk as well.
No wonder then that the PM, in turn, always appears willing to say 'cheese' for the smartphone cameras.
While most of such photo ops happen at close door events, the Prime Minister's visit to diamond city Surat in his home turf of Gujarat painted a different picture altogether when a 4-year girl breached the Z plus security cover of the PM and went close to the vehicle Modi was travelling in.
The girl wanted to meet her "Modi Dada."
When the girl came close to the PM's vehicle, she was immediately spotted by a SPG man who sent her back.
Seeing this, Narendra Modi asked the commando to allow her to come. After the PM's direction, the security personnel held the girl up in his arms and allowed her to meet the Prime Minister who is in the last leg of his Surat visit.
The meeting may have lasted all but a few seconds, the girl and her family turned celebrities.
When India TV asked the girl about the conversation she had and with whom, she innocently replied, "I met Modi dada. He asked my name and I told her Nancy Gondolia".
Her father Prakash said that they were on cloud nine today and it was one the happiest days of their lives. "Friends and relatives are calling from the across the country to congratulate them."
Modi is on a two-day tour of Surat in his home state Gujarat. BJP is banking on the face and charisma of the PM to win assembly elections in the poll bound state that it has ruled for the last 21 years.