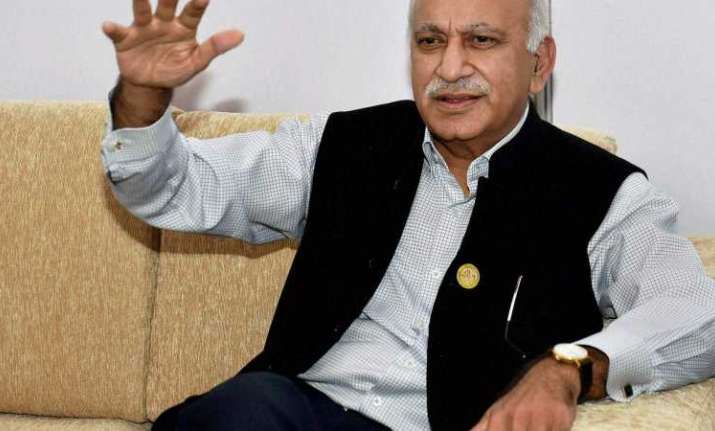 Series of allegations continue to be levelled against former minister of state in the Narendra Modi government and a veteran journalist M J Akbar with another Indian-American woman journalist, who worked with him at Asian Age newspaper, coming forward to share her horrific experience. 
Responding to the accusations, Akbar admitted having a "consensual relationship" with the journalist but rejected allegations of rape and violence. Akbar's wife also came out in his defence. In a separate statement Mallika Akbar dismissed the allegations made in a Washington Post article, as a 'lie'. 
"I don't know reasons for telling this lie but a lie it is," Mallika Akbar said.
"On Oct 29, the Washington Post forwarded to my lawyers a series of cryptic and non-specific questions, regarding incidents alleged to have taken place approximately 23 years ago. These allegations were false and were consequently denied," Akbar said in a statement to ANI. 
"Somewhere around 1994, she and I entered into consensual relationship that spanned several months.This relationship gave rise to talk & would later cause strife in my home life as well. This consensual relationship ended, perhaps not on best note," he added.
Akbar also said that people who worked with him knew both of them and indicated to bear testimony to what the former minister has stated. 
"People who worked with me and knew both of us have indicated that they would be happy to bear testimony to what is stated above and at no stage, did her behavior, give any one of them impression that she was working under duress," he said.
The journalist, in a piece in Washington Post, shared her experience of allegedly being sexually, verbally and emotionally abused by Akbar.
It must have been late spring or summer of 1994, and I had gone into his office — his door was often closed. I went to show him the op-ed page I had created with what I thought were clever headlines. He applauded my effort and suddenly lunged to kiss me, wrote the journalist.
The second incident was a few months later, when I was summoned to Bombay to help launch a magazine. He called me to his room at the fancy Taj hotel, again to see the layouts. When he again came close to me to kiss me, I fought him and pushed him away. He scratched my face as I ran away, tears streaming down, she added further.
The journalist sharing her third frightening encounter with Akbar at a hotel in Jaipur, where she had gone to cover the killing of a young couple, said " In his hotel room, even though I fought him, he was physically more powerful. He ripped off my clothes and raped me".
Washington Post reached out to Sandeep Kapur, Akbar's lawyer, for comment on the accounts laid out in the piece by the journalist. The lawyer responded saying " My client states that these [incidents and allegations] are false and expressly denied".
WATCH: MJ Akbar's wife defends him over rape allegations