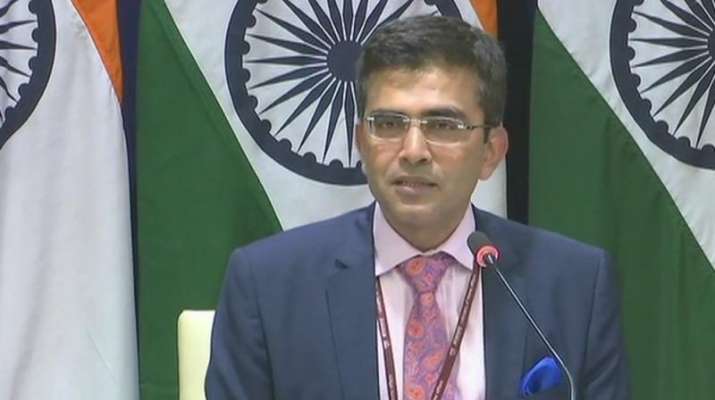 The Ministry of External Affairs on Saturday came down heavily on Pakistan for not acting against terrorist groups operating on its soil, and urged 'Naya Pakistan' to show some 'Naya action' against them. 
"If Pakistan claims to be a 'Naya Pakistan' with 'nayi soch' then it should show 'naya action' against terrorist groups and cross border terrorism," MEA Spokesperson Raveesh Kumar said today. 
The Indian Air Force (IAF) had carried out a pre-dawn air strike on February 26. The air strike came in response after the terror attack in Jammu and Kashmir's Pulwama in which 40 Central Reserve Police Force troopers were killed on February 14 and Pakistan-based JeM claimed responsibility. 
ALSO READ | OpinionRajat Sharma on terror groups from Pakistan changing their strategy post-air strikes
The ministry spokesperson also dared Islamabad to show video recording of downing a second Indian aircraft with the international media, as claimed. He said Pakistan was pushing a false narrative about the entire sequence of events. 
"If as Pakistan claims it has a video recording of the downing of a second Indian aircraft then why have they not shared the video with international media?," he said.
Kumar said there were eyewitness accounts and electronic evidence that Pakistan deployed F-16 aircraft and that one F-16 was shot down by Wing Commander Abhinandan. "We have asked USA to also examine whether the use of F-16 against India is in accordance with terms and conditions of sale," he added. 
The MEA spokesperson said it was regrettable how Pakistan continued to deny Jaish-e-Mohammed's own claim of taking ownership of the deadly Pulwama attack.
Kumar cited Pakistan Foreign Minister, who said 'they (JeM) have not claimed responsibility of the attack, there is some confusion', asking if Islamabad was defending Jaish or acting as its spokesperson. 
He further said all members of the United Nations Security Council (UNSC) were aware of the training camps of Jaish in Pakistan and about Masood Azhar's presence. Kumar called upon all members of the council to list Masood Azhar as a designated terrorist under UN sanction committee. 
On absconding diamantaire Nirav Modi's presence in London, the ministry spokesperson assured all necessary steps were being taken for his extradition. 
ALSO READ | WATCH: Nirav Modi spotted in upscale London wearing Rs 8 lakh jacket, stays in Rs 73 crore flat
WATCH VIDEO: