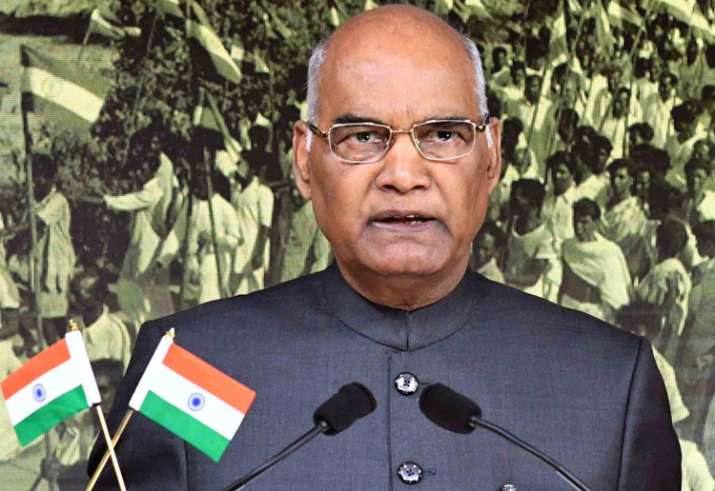 President Ram Nath Kovind on Monday made his first address to the nation on the eve of India's Independence Day after assuming office last month. Kovind, who was sworn in as 14th President of India on July 25, hailed government schemes, such as demonetisation and Swachh Bharat campaign and sought citizens' support in implementing such programmes. 
Here are the highlights of President Ram Nath Kovind's maiden Independence Day speech:
# If we follow Buddha's teachings, we can collectively be the 125 crore lamps that light up the path to a New India
# Gautam Buddha said, "अप्प दीपो भव ... Be a lamp unto yourself …"  
# In a few years we will become a fully literate society; we must set the bar higher& aim to become a fully educated society
# Enrol and pay the school fees or buy the books of at least one child other than your own; just one!
# I would urge you, as fellow nation builders, to help educate less-privileged children in our society 
# The single most critical factor for building our nation is to equip our coming generation 
# We should draw inspiration from these families; each of us must find a way to give back to society
# No law or government order made them do what they did; their response came from within
# I salute those families that gave up their LPG fuel subsidy
# Can each of us not imbibe this spirit of selflessness? We can and we have
# They are displaying an extra degree of selflessness
# Police & paramilitary forces that brave death to combat terrorism or crime are not just doing their duty
# Our soldiers who guard our borders are not just doing their duty; they are displaying an extra degree of selflessness
# We must heed the call for that extra degree of selflessness, that extra something beyond just duty 
# As citizens of India – whether we live at home or abroad – we must ask ourselves how we can add to our country's pride
# The Tokyo Olympics of 2020 offer another opportunity for us to raise our standing in the world's eyes 
# Today, the world is looking at India with admiration
# Poverty and New India are simply not compatible
# Demonetisation has boosted our efforts to build an honest society
# Your whole-hearted support in battle against corruption and black money reflected a responsible and enlightened society
# New India we can cherish – where every Indian contributes to society and our country
# New India we can cherish – where every Indian is equipped to fulfil his or her potential
# New India must be a society rushing towards the future, but also a compassionate society
# New India must include that integral humanist component that is in our DNA & which has defined our country & civilisation 
# There are some obvious parameters like a house for every family, better roads & telecom, a modern railway network
# When we speak of a New India, what do we mean?
# It should be a matter of pride for all of us that the taxes we pay are used for nation building
# But it is for each of us to make GST an essential part of our everyday transactions and business culture
# Government is implementing GST to eliminate multiple taxes and simplify transactions
# Government can frame laws and strengthen law enforcement – but it is for each of us to be a law-abiding citizen
# Government is building toilets or helping build toilets – but it is for each of us to make India open-defecation free 
# Government has started the Swachchh Bharat campaign – but it is for each of us to ensure a Swachchh Bharat
# We should work with unity and purpose to ensure that the benefits of government policies reach all sections of society
# This will make us a gentler and happier society and help us understand each other with greater empathy
# Whether in cities or villages, it is important to renew that sense of caring and sharing
# If you helped your neighbours in their times of need, they instinctively helped you in turn
# There was a sense of caring and of sharing, and of interdependence 
# Regardless of the caste or community, the bride became the daughter of not just a single family but of the entire village 
# I remember from my childhood that when there was a wedding in any one family, entire village shared responsibility
# We need to draw inspiration from such brave freedom fighters, many of whom sacrificed even their lives for the country 
# They were men and women who represented all parts of our country and a variety of political and social thought
# The generation that brought us to freedom was diverse
# Babasaheb Ambedkar urged the virtues of constitutional governance, of rule of law – and of the vital need for education
# Sardar Patel instilled in us the importance of national unity and integrity 
# Nehruji emphasised India's age-old heritage & traditions could co-exist with technology & quest to modernise our society
# At Netaji Subhas Chandra Bose's word, millions of Indians joined the freedom movement and gave their all 
The principles that Gandhiji spoke about are relevant even today 
# Mahatma Gandhi emphasised the moral character of India and of Indian society
# From earliest days of our freedom struggle, we were blessed with a galaxy of revolutionary leaders who guided our country
# For this we owe so much to the countless freedom fighters who made great sacrifices to bring us here 
# It is crucial to understand that the dream for a free India was in the all-round development of our country
# It is crucial to understand that the dream for a free India was rooted in our ordinary villages
# We were free to imagine and build our nation anew
# It was much more than that; it was culmination of a dream for our country – a dream seen by forefathers & freedom fighters
# On August 15, 1947, we became a free nation; some have called this process a "transfer of power"
# My greetings to Fellow Citizens as we complete 70 years of our Independence
# Making maximum use of modern technology a necessity: President Kovind
# Salute those who gave up their LPG subsidy at the call of the PM: President Kovind
# Today, the entire world is looking at India with respect: President Kovind
# There is no place of poverty in New India: President Kovind
# Each of us responsible for creating a law-abiding society: President Kovind 
# Govt can make, implement & strengthen laws but it is everyone's duty to abide by them: President Kovind 
# Achieving milestones for 'New India' a national resolve for us: President Kovind
# India will celebrate 75 years of Independence in 75 years in 2022: Kovind
# I am glad that the country has accepted GST with open heart: President Kovind
# ​Govt has started Swachch Bharat campaign but it is the duty of each one of us to keep the nation clean: President Kovind
​# The principles Gandhi ji spoke of imbibing are relevant still today: President Kovind
# Mahatma Gandhi had stressed upon building of society as well as character: President Kovind
# Maintaining purity in our work culture is a responsibility for each of us: President Kovind
​# I congratulate the nation on the eve of Independence Day: President Kovind