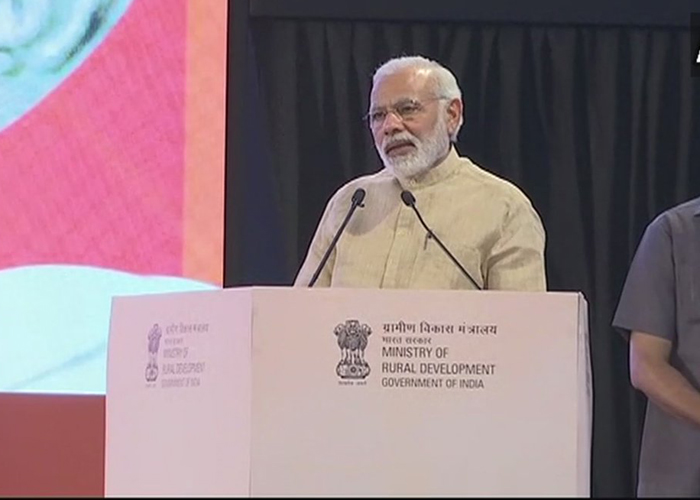 Prime Minister Narendra Modi paid tributes to political leader Loknayak Jaiprakash Narayan and Sangh Parivar veteran Nanaji Deshmukh on their birth anniversaries on Wednesday.
Later, PM Modi visited Delhi's Indian Agriculture Research Institute on the occasion of the birth centenary celebrations of Nanaji Deshmukh.
Highlights of PM Modi's speech at IARI in New Delhi:
# Lack of sanitation facilities is adversely impacting the development journey of villages. That is why we have been working to overcome this and build toilets in rural areas.
#Strength of a democracy cannot be restricted to how many people vote. Yes, that is important but the real essence of a democracy is Jan Bhagidari and integrating people in the development journey of cities, villages. Regular Samvad with governments is required.
#Initiatives have to be completed on time and fruits of development must reach the intended beneficiaries.
# Just having the best ideas for development are not enough. Efforts have to be comprehensive and 'outcome driven' not 'output driven'.
# The country lacks good governance in some states, development is visible in states where there is good governance.
# The rural areas also need to be developed and have all facilities that are available in cities.
# This includes electricity, gas, the internet and other such necessities.
Loknayak JP was deeply popular among youngsters.
# The likes of Loknayak JP and Dr. Lohia were active during the 'Quit India' movement, inspired by the clarion call of Mahatma Gandhi.
# Loknayak JP was never interested in power politics.
# PM Modi released postage stamp of Nanaji Deshmukh on commemoration of his birth centenary.
# Earlier in the day, the prime minister remembered both leaders and said that the country was "motivated" by their services".
# "Remembering Nanaji Deshmukh on his birth anniversary. We are constantly motivated by his noble service and emphasis on rural development," Modi tweeted and shared a video on his life as well.
# Deshmukh, who was a leader of the Bharatiya Jana Sangh and also a member of the Rajya Sabha, worked in the fields of education, health, and rural self-reliance. He was honoured with the Padma Vibhushan by the government.