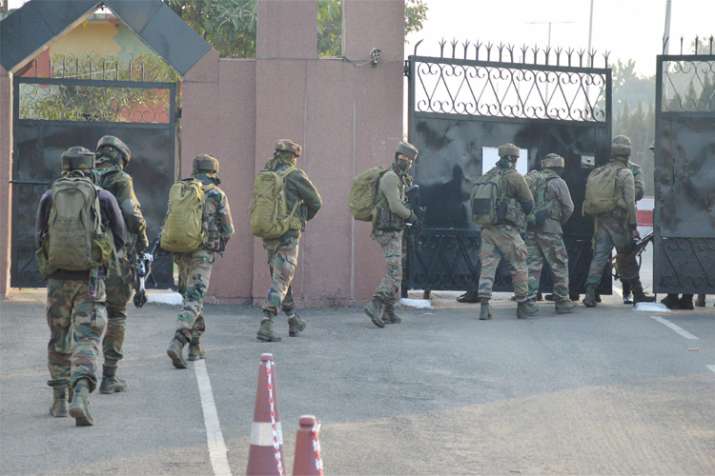 The attempts to sanitise Sunjuwan army camp of terrorists entered the third day as Indian Army launched a "clearing" operation. After gunning down all five terrorists by Sunday afternoon, the Army fired mortar shells at the vacated residential quarters on the camp late in the night. 
On Sunday, Army spokesperson Lt Col Devender Anand said the Army found the bodies of three of its personnel and a civilian, taking the toll to six in the attack, and gunned down three terrorists.
On the clearing operation, he said there was no exchange of fire. "The Army has launched a fire assault as a part of a sanitisation and clearing operation. There was no exchange of fire," the Jammu-based Army PRO said.
A police official said, "Fresh gunfire took place and mortar shells were launched at the quarters vacated by the Army. It resulted in the eruption of fire at the quarters."
Lt Col Anand said five Army men, including two junior commissioned officers (JCOs), and the father of a soldier was killed in the attack by the terrorists who struck at the sprawling camp of the 36 Brigade of the Jammu and Kashmir Light Infantry (JKLI) on Saturday.
In a statement, he said three heavily armed terrorists were killed in the operation.
While two were gunned down on Saturday, the body a third terrorist was found on Sunday, he said, adding they were in combat gear.
The Army spokesperson said that AK-56 rifles, an under barrel grenade launcher, ammunition and grenades were from them.
Giving details, Lt Col Anand said, "So far, six fatal causalities have occurred. They include two JCOs, three jawans and one civilian dependent, all residents of Jammu and Kashmir."
Ten people, including Major Avijit Singh, have been injured of which six are women and children, he said.