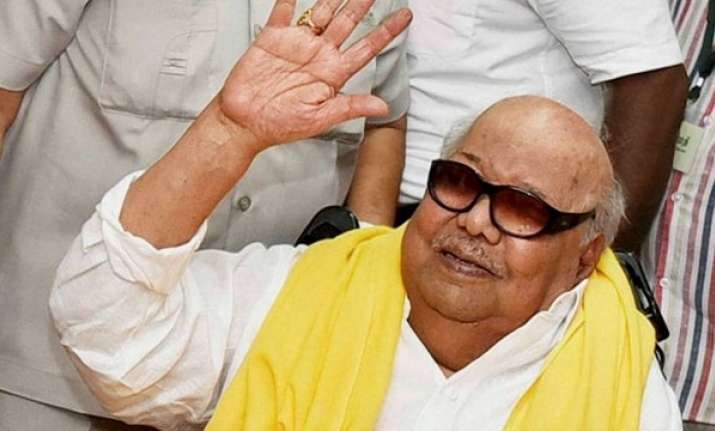 Karunanidhi passes away: DMK president M Karunanidhi on Tuesday passed away at the age of 94. A five-time Chief Minister of Tamil Nadu, Karunanidhi was admitted to Kauvery Hospital here on July 28 and was undergoing treatment. He was admitted after a dip in his blood pressure. 
Karunanidhi was the 3rd Chief Minister of Tamil Nadu. In 1969, he became Chief Minister for the first time and on 13 May 2006, he became the CM for the fifth time.
At the age of 14, Karunanidhi entered politics. He was inspired by a speech by Alagiriswamii of the Justice Party. He participated in Anti-Hindi agitations and founded an organisation for the local youth of his locality.
Later, he founded a student organisation called Tamil Nadu Tamil Manavar Mandram.
Also read | Karunanidhi Funeral Latest Updates
Karunanidhi entered the Tamil Nadu assembly at the age of 33 by winning the Kulithalai seat in the 1957 election.
When Annadurai expired in 1969, Karunanidhi became the Chief Minister of the state. However, he suffered multiple electoral defeats against his primary opponent M.G. Ramachandran's AIADMK until the latter's death in 1987.
In the Tamil film industry, he was also known for his writing works and M.R. Radha gave him the title of Kalaignar.
M Karunanidhi began his career as a screenwriter in the Tamil film industry and rose to fame as a scriptwriter for the Modern Theatres Studio in Salem about 350 km from Madras or present-day Chennai.
At the age of 20, he went to work for Jupiter Pictures. His first film, Rajakumaari, gained him much popularity and it was here that his skills as a scriptwriter were honed, which extended to many films.
Karunanidhi, whose original name was Dakshinamurthy, was born in Thirukkuvalai village in Nagapattinam district.
During his school time, Karunanidhi was more interested in drama, poetry and literature.
In 1971, Annamalai University awarded him an honorary doctorate. 
WATCH VIDEO: Karunanidhi passes away at 94, security tightened across Tamil Nadu | Karunanidhi death | DMK
​