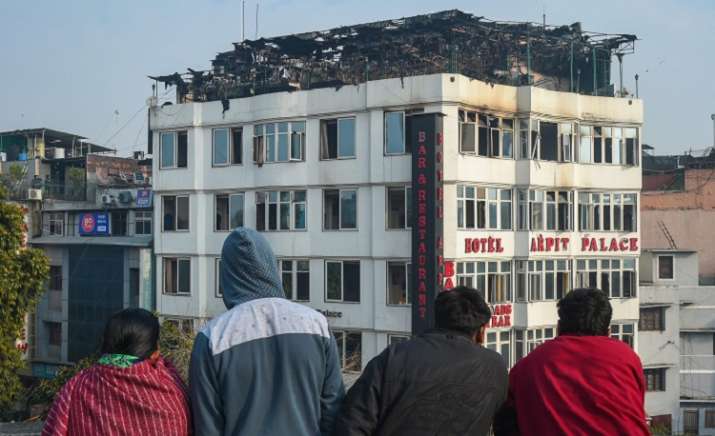 The hotel in Delhi's Karol Bagh where 17 people were killed in a massive fire on Tuesday had its emergency exits locked and were 'too narrow', Union Tourism Minister KJ Alphons told reporters after visiting the site. 
The minister, who visited the site of the tragedy in central Delhi's Karol Bagh locality, said he was sure that there would be violation of norms.
The Union tourism minister said there were a lot of wooden structures inside, which may have helped the fire spread. 
"When I headed to the emergency exit, I found that it had been locked yesterday (last night). Also, it was too narrow," Alphons said. 
The minister said he spoke to the mayor and asked him to check whether all regulations were in place and to take immediate action if there was any lapse on the part of the hotel management. 
Deputy Commissioner of Police Madhur Verma said that at least 35 people were injured in the incident. Initial investigations suggest that the fire at Hotel Arpit Palace could have been triggered by a short circuit. 
Delhi CM Arvind Kejriwal, who also visited the hotel, said that a magisterial inquiry has been ordered. Kejriwal said violations by other hotels in the area will also be looked into during the probe. 
Delhi govt cancels fourth anniversary celebrations
Deputy Chief Minister Manish Sisodia has ordered cancellation of an event to mark the fourth anniversary celebration of the AAP government in Delhi in the wake of the Karol Bagh fire tragedy.
Bollywood singer-composer Vishal Dadlani was to perform during the event to be held at Talkatora Stadium.
"The deputy chief minister has ordered cancellation of today's event owing to the Karol Bagh hotel fire incident," a senior government official said. 
WATCH: 17 killed in Karol Bagh hotel fire tragedy
(With inputs from agencies)