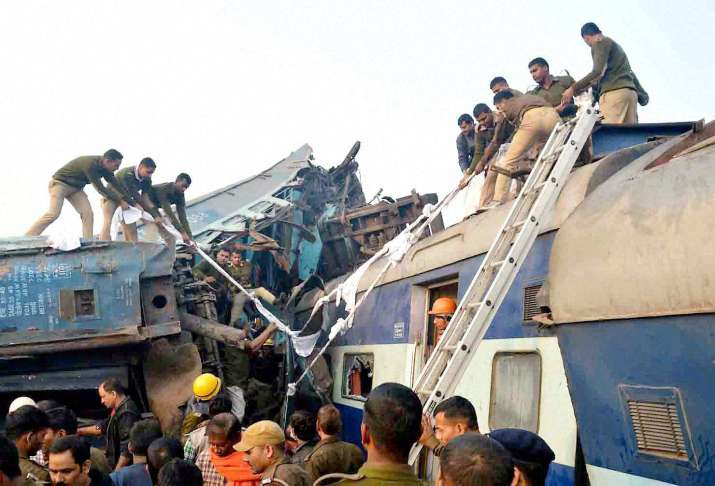 Indian Railways on Tuesday formed a 12-member team of Government Railway Police (GRP) personnel to investigate the Indore-Patna Express derailment which has left 149 passengers dead and over 100 injured.  
DSP GRP Jhansi will head the team, Director General Railways Gopal Gupta said here today.  
An FIR has already been registered against unidentified railway employees under section 304A (causing death by negligence), 337 (causing hurt by act endangering life or personal safety of others) and 338 of IPC at the GRP police station at Bhimsen railway station. When asked about a broken track led to the derailment, Gupta said no evidence in this regard has been found. 
Maintaining that no evidence has been found so far about involvement of any terror outfit or explosion in the case, the DG said any conclusion can be reached only after the probe completes.  
The train's passengers are being questioned in connection with the probe but as the incident occurred around 3 AM most of them were asleep and are not in the state to provide details, he said.  
Seven bodies have not been identified so far, Gupta said. When asked about some reports that a fish plate was found uprooted at the accident spot, the officer said he has no information about it.  
149 people have died after the Indore-Patna Express derailed here in Kanpur rural area just a little after 0300 hours on November 20. 
Officials had said that prima facie the cause of the accident could be due to track fracture. 
A high-level probe was yesterday ordered by Railway Minister Suresh Prabhu, who promised "strictest possible action" against the guilty. 
Making a suo motu statement in the Lok Sabha, he said a separate investigation will be held aided by latest technical and forensic analysis.