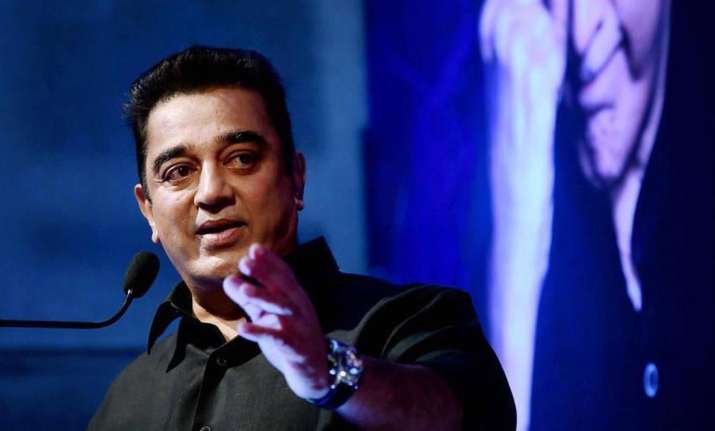 Makkal Needhi Maiyam founder Kamal Haasan has been invited for the swearing-in ceremony of Prime Minister-elect Narendra Modi on May 30. 
President Ram Nath Kovind will administer the oath of office and secrecy to PM-elect Narendra Modi and other members of the Union council of ministers on May 30 at 7 p.m. in Rashtrapati Bhavan. 
Kamal Haasan had recently triggered a row after he said that "free India's first extremist was a Hindu", referring to Nathuram Godse who killed Mahatma Gandhi.
"I am not saying this because this is Muslim-dominated area, but I am saying this before a statue of Gandhi. Free India's first extremist was a Hindu, his name is Nathuram Godse. There it (extremism, apparently) starts," he had said in bypoll-bound Aravak. Later, the MNM leader alleged his speech was edited selectively and took a dig at his detractors, saying the charges levelled against him "apply to my media friends also."
He asked if his critics could show instances of his remarks that could incite violence and said the accusations against him had hurt him.
Modi won a second consecutive five-year term as Prime Minister with the National Democratic Alliance returning to power with a massive majority in the Lok Sabha elections. The BJP alone bagged 303 of total 542 seats that went to polls with the NDA getting 353 seats.
Elections were held in 542 of the 543 seats. The election in Vellore Lok Sabha seat was cancelled by the Election Commission citing abuse of money power.
Modi along with NDA leaders on Saturday met President Kovind and staked claim for the formation of government. Kovind asked Modi to decide his council of ministers and the date of his swearing-in ceremony.
The President also appointed Modi to the office of Prime Minister of India, a communique issued by the Rashtrapati Bhavan said.
Modi was earlier elected as leader of the BJP parliamentary party and the NDA parliamentary party at a function at Central Hall of Parliament which was attended by senior NDA leaders, Chief Ministers of NDA-ruled states, 353 newly-elected NDA MPs and senior BJP functionaries including party chief Amit Shah and veterans L. K. Advani and Murli Manohar Joshi.
ALSO READ | 'Historic truth': Kamal Haasan refuses to back down from Hindu extremist remark
ALSO READ | Every religion has its own terrorist: Kamal Haasan