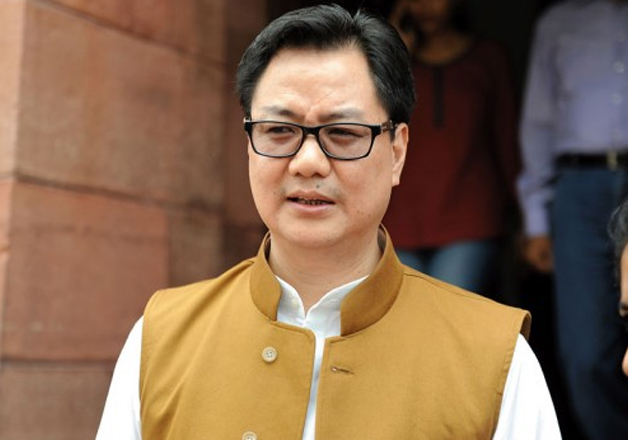 Minister of State for Home Affairs, Kiren Rijiju, today lashed out at a 'few' protesting JNU students for creating ruckus within the campus, saying 'it seems that some students go to university not for studying, but for doing politics only'.
Stating that it was wrong to confine the vice-chancellor and other officials to get your demands fulfilled, he said, all activities should be done within the frameworks of law and order.
"It is very wrong to confine the vice-chancellor and other officials of the university. JNU is a big institution. Students should concentrate on studies. They should carry all their activities within the frameworks of law and order," he told reporters, adding that 'he has spoken to his senior Rajnath Singh about the incident'.
Meanwhile, Home Minister Rajnath Singh has directed the Delhi Police to set up a special team to trace Najeeb Ahmed, missing student of Jawaharlal Nehru University, where a section of students has been staging protest alleging inaction by authorities in the case.
Singh called up the Commissioner of Delhi Police and gave the instruction to set up the special team to find the missing student, a Home Ministry official said.
As JNU students continue to stage protests outside the Administrative Block over the university's alleged inaction in connection with the case, Vice Chancellor Jagdeesh Kumar today appealed to the agitating students to maintain peace and let officials go out of the building and discuss the matter.
Students have been protesting outside the Administrative Block of the university since last afternoon, restricting the top brass of the varsity inside their offices.
Speaking to media here, Kumar said that the management is working round the clock and assisting police to trace the missing student.
"We are taking all possible steps to trace him. Yesterday, we requested students… but they are not heeding us. They have become relentless and adamant and think that we are not doing our best. They are spreading rumours," he said.
Kumar also said that action will be taken if students try to disrupt today's academic council's meet.
"At 2.30pm, the academic council is slated to meet. If they don't allow the officials to hold the meet, the administration will take necessary action," he said.
Apart from Kumar, Rectors one and two and Registrar of the university are said to be confined inside the building since yesterday. All student political parties (NSUI, AISA, SFI, DSU), except Akhil Bhartiya Vidya Parishad (ABVP), took part in the blockade and vented out their anger at the university officials.
Students, however, have denied keeping anyone hostage and said that they were just protesting outside the building and anyone is allowed to come and go. 
"We are only lying outside the building, if anyone wants he can go out over our bodies," JNU Students Union President Mohit Pandey said.
The protests started outside the Administrative Block at 2 pm and grew more intense as the day wore off. 
A student named Najeeb Ahmed had gone missing on the night of October 14 from the university hostel Mahi-Mandvi after a brawl with a few ABVP students. Since then a police complaint has been filed under IPC Section 365 and a Proctorial inquiry has been initiated by the University. 
On October 18, VC had also met the parents of Ahmed and had apprised them of all that they were doing to find him.
Rs 50,000 reward for missing JNU student
Meanwhile, the Delhi Police announced a reward of Rs 50,000 for information about missing JNU student Najeeb Ahmed five days after he vanished.
Police said that any information or clue regarding the missing/abducted Jawaharlal Nehru University (JNU) student could be given to the Station House Officer (SHO) of Vasant Kunj North police station.
It added that a cash reward of Rs 50,000 would be given to anyone who gave information regarding Ahmed's whereabouts.