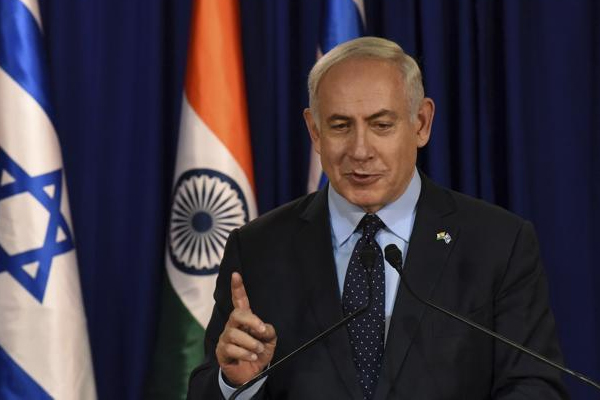 Israeli Prime Minister Benjamin Netanyahu will arrive here on Sunday on a six-day visit during which both the strategic partners will aim to further expand ties on a range of key areas including defence and trade besides deliberating on Israel-Palestine relationship.
Prime Minister Narendra Modi and Netanyahu will hold talks on Monday covering entire expanse of the ties and explore new areas of cooperation to further deepen the "very very special relationship", the External Affairs Ministry said.
Joint Secretary (West Asia-North Africa division) in the ministry B Bala Bhaskar said the Palestinian issue is likely to figure in the talks between the two prime ministers besides other key issues of mutual importance. 
India last month had joined 127 other countries to vote in the United Nations General Assembly in favour of a resolution opposing the recent decision of US President Donald Trump to recognise Jerusalem as Israel's capital. 
"Our policy is not influenced by any third country... our policy is independent," he said when asked about India's position on the sensitive issue.
The Israeli prime minister will travel to Ahmedabad, Mumbai and Agra also.
"This is a very very special relationship... We want to take it to higher level," said Bhaskar.
Modi had visited the Jewish state in July last year, becoming the first Indian premier to do so. 
Asked whether purchase of Spike anti-tank guided missiles (ATGMs) from Israel through the government-to-government (G-to-G) route will be discussed during Netanyahu's visit, Bhaskar refused to give a direct reply.
In November, the defence ministry had decided to retract the process to acquire a batch of Spike missiles from Israeli firm Rafael Advanced Defence Systems. Now, it is learnt that the government is considering buying the missiles through G-to-G route.
Bhaskar said both the countries have long-standing defence ties and new areas of cooperation are being explored.
He said aim will be to further boost cooperation in a range of sectors including water, agriculture, scientific research and education.
Ahead of the visit, Israeli Ambassador Daniel Carmon said, "The Prime Minister's visit to India is the grand finale to the celebrations of 25 years of growing partnership between India and Israel."
He said the visit will focus on the progress made between India and Israel since Modi's visit to Israel last summer, and on shaping the next 25 years of relations between the two countries.
On January 15, Netanyahu will meet with the Indo-Israeli CEO forum here and address a separate business event. He will deliver a speech at the Raisina Dialogue on January 16.
Netanyahu will also meet President Ram Nath Kovind. 
He will leave for Ahmedabad on the morning of January 17. In Ahmedabad, he will visit Sabarmati Ashram. Modi and he will also visit the Center of Excellence in Vadrad and inaugurate a Center of Excellence for date palms in Bhuj via video conference.
The Israeli prime minister will have a number of engagements in Mumbai on January 18.
The Israeli embassy here said Netanyahu will meet with Jewish community leaders and select members of the Indian business community in Mumbai.
It said he will reach out to Bollywood in an exclusive "Shalom Bollywood" event.
Asked whether Baby Moshe, the Israeli child who lost his parents in the 2008 terror attack on a Jewish centre in Mumbai, will be part of Netanyahu's delegation or whether Moshe will attend Jewish community event, Bhaskar said finer details of the Israeli PM's visit were still being worked out.