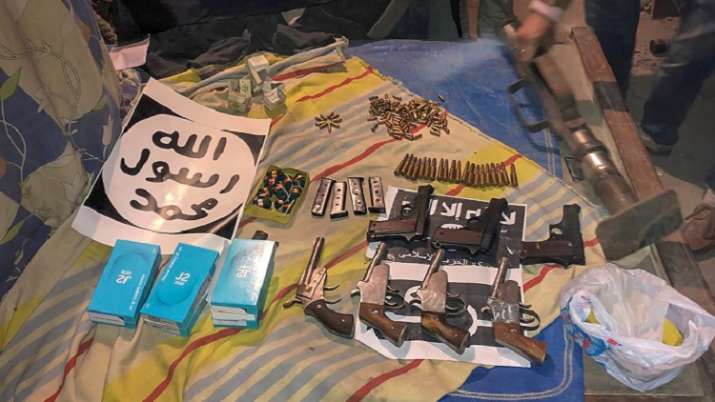 The ISIS-inspired terror group which was busted by the National Investigation Agency (NIA) in raids in Delhi, Uttar Pradesh  on Wednesday was masterminded by a man who worked as a mufti or Muslim legal expert at a madrasa in Amroha. Mohammed Suhail, 29, was training young men to carry out strikes targeting politicians and government installations in Delhi and other parts of north India, NIA said. WhatsApp chat intercepts of one of the arrested men also revealed that the group was planning to carry out attack on Ayodhya's Ram Janmabhoomi.
The security agency arrested 10 suspects who were in touch with Suhail. Those arrested include a student of Noida engineering college and a BA student of a university in Delhi.
What we know so far about ISIS-style terror module busted by NIA 
1) NIA Inspector General Alok Mittal said a locally-made rocket launcher, material for suicide vests and 112 alarm clocks to be used as timers were recovered from the searches carried out at in coordination with Special cell of Delhi Police and Anti-Terrorism Squad of Uttar Pradesh Police at six places in Jafrabad, Seelampur in Delhi, and 11 places in Uttar Pradesh - six in Amroha, two in Lucknow, two in Hapur and two in Meerut.
2) "They were planning to make not one but a large number of bombs which is evident from 112 alarm clocks recovered by us. The members were in an advanced stage of preparation. They were just waiting for the successful assembly of bombs and wanted to hit multiple locations using remote controlled IEDs and pipe bombs and carry out Fidayeen attacks using suicide vests when needed," Mittal said.
3) Huge amount of arms and explosives were also recovered in the raids. About 25 kg of explosive material - Potassium Nitrate, Ammonium Nitrate, Sulphur was recovered from the group's possession. In addition, 12 country-made pistols, 150 rounds of live ammunition, a country-made rocket launcher, 112 alarm clocks, phone circuits, batteries and 51 pipes to be used as bombs were also recovered.
4) The agency also found a video where Suhail is seen demonstrating the method to complete a bomb circuit.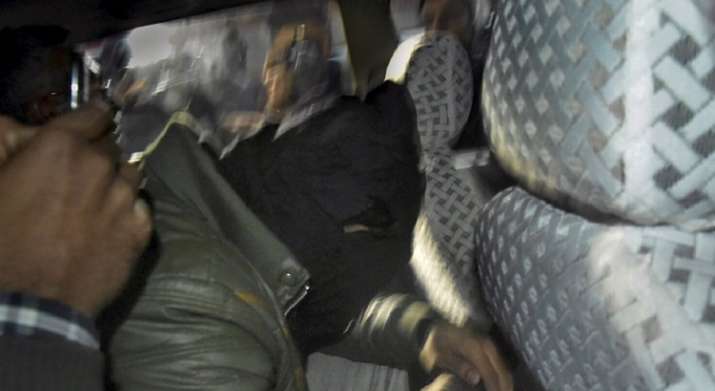 5) The 'highly-radicalised module' called itself Harkat-ul-Harb-e-Islam which loosely translates into war for the cause of Islam. The group mainly had youths in the age group of 20-35 years and it was completely self-funded.
6) One of the most striking feature of the group was that none of the members had any criminal antecedents.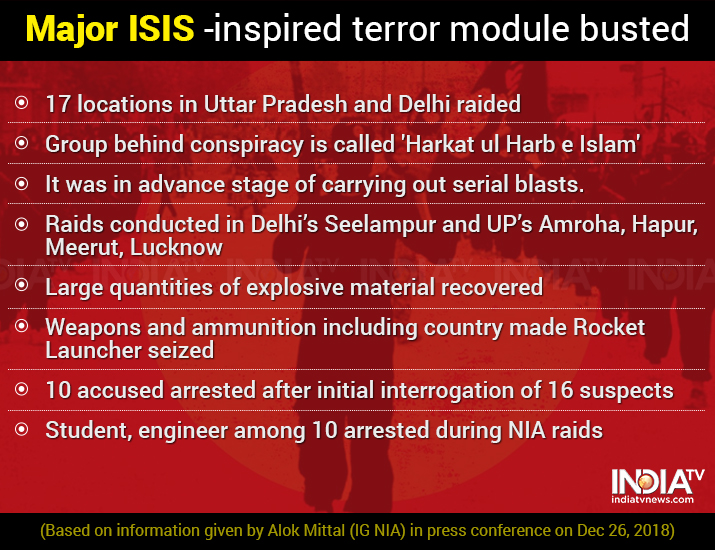 7) The security agencies detained 16 people for questioning. Ten were later arrested including an engineering student in a private university in Noida and a third year graduation student in humanities in a university in Delhi as well as two welders.
8) All arrested youth are moderately educated barring two - an engineering student and a BA third year student - and are from middle income families.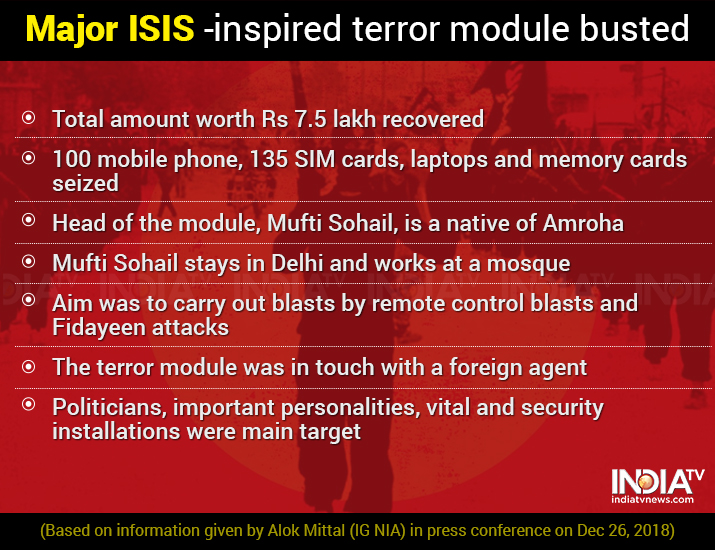 9) The group remained in touch through data-based messaging applications WhatsApp and Telegram to avoid scrutiny of agencies.
10) Some media reports claimed that the module was also planning to target RSS headquarters in Nagpur and Delhi Police headquarters. However, NIA officials refused to comment on this.
WATCH: ISIS-style terror module busted by NIA
(With inputs from PTI)