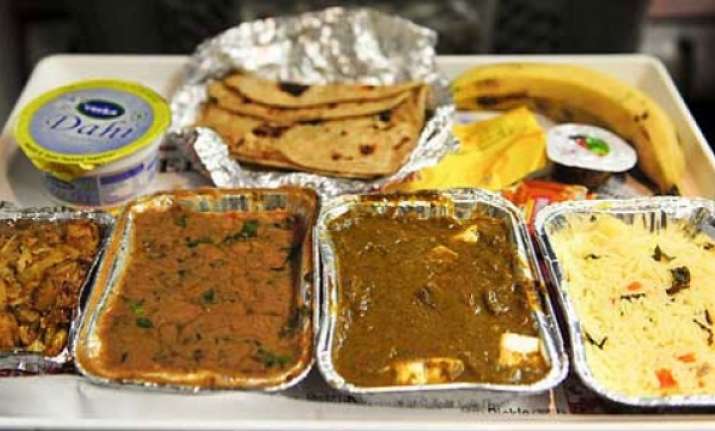 A day after the CAG released a report critical of the food and water served in railway stations and trains, the Ministry of Railways on Saturday said the IRCTC has formed a new catering policy by unbundling the current services on trains. In order to better the quality of food, the Indian Railway Catering and Tourism Corporation Ltd (IRCTC) will set up new kitchens and upgrade the existing ones, the ministry said in an official statement on Saturday. Besides, the IRCTC will also install water vending machines at 450 stations in 2017-2018 to provide clean drinking water. 
The IRCTC has been mandated to carry out the unbundling by creating a distinction, primarily, between food preparation and its distribution, it said.
The statement came after the Comptroller and Auditor General (CAG), in a report tabled in Parliament on Friday, had slammed the Indian Railways for serving food articles "unfit for human consumption" such as recycled, contaminated and expired items and unauthorized water brands.
The CAG has criticised that the flawed catering management policy of the Railways, observing that contractors were paying a major portion of the contract amount as license fee to the zonal railways, leaving a small margin of the contract value for providing catering services.
The ministry said as per the new catering policy of 2017, the IRCTC will manage the services on all mobile units and pantry car contracts will be reassigned to the railways' catering arm.
Meals for all mobile units will be picked up from the nominated kitchens owned, operated and managed by the IRCTC, it said.
IRCTC to install 1,100 water vending machines at 450 stations
The IRCTC also plans to install 1,100 water vending machines at 450 stations in 2017-2018 as part of its efforts to ensure clean drinking water at low cost in rail premises across the country. A glass of 300 ml water dispensed through these machines will cost just Re 1.
The railway ministry in a series of tweets on Saturday said these water vending machines (WVMs) will provide clean drinking water at low cost, and that the initiative will help in generating employment for around 2,000 people.
At present, there are 1,106 WVMs at 345 stations in the country, the ministry said.
The project of setting up WVMs was initiated in 2015 with an objective of providing potable water at nominal rates.
Water is dispensed through the provision of Reverse Osmosis (RO) in these machines. The WVMs are operated round-the-clock either manually or via automatic mode.
The water dispensed through these machines will be much cheaper than bottled mineral water, the ministry said.
While a glass of half a litre water will cost Rs 3, a litre will be available Rs 5, two litres for Rs 8 and a can for Rs 20.
(With PTI inputs)