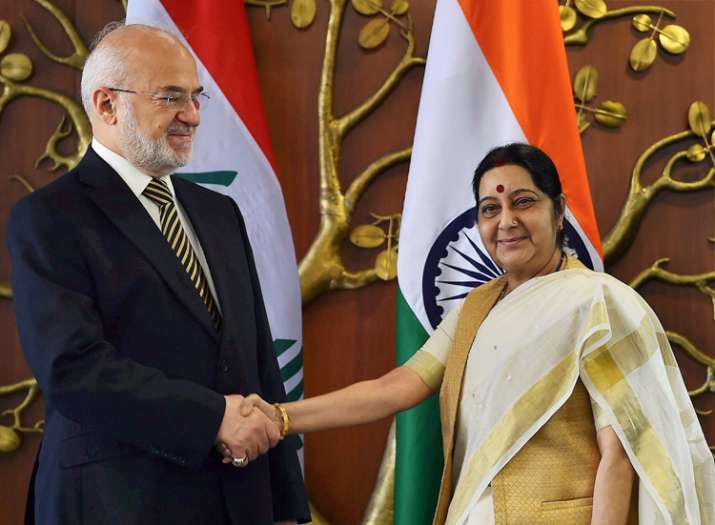 Expressing inability to locate the 39 missing Indians who were taken as prisoners by the Islamic State in 2014 from Mosul city, Iraq on Monday said that it has no substantial evidence to ascertain of they are still alive or have been killed. Iraqi Foreign Minister Ibrahim al-Eshaiker al-Jafari, who began his five-day visit to India today, expressed his inability to provide any details on whereabouts of the Indian labourers. 
"We are not sure 100 per cent if they are alive or not, we don't know. We are going to do our best. We are equally concerned. There is no substantial evidence whether they are alive or not. We are making the best efforts," he told reporters after meeting Oil Minister Dharmendra Pradhan here. 
External Affairs Minister Sushma Swaraj had on July 16, based on information gathered by minister VK Singh during his visit to the city after its recent "liberation" from ISIS, stated that the abducted Indians may be lodged in Badush jail, located in northwest Mosul. However, a media report from Badush on Friday said the jail is now an abandoned structure and has been unoccupied for weeks.
Ibrahim confirmed the report that the prison at Badush has been demolished by terror group ISIS.
"ISIS had seized control of Badush jail. The jail was demolished. We do not have any details on whether the Indians went under the rubble. We will continue to look for more details about them," al-Jaafari told a press conference here.
The issue was raised by Swaraj during extensive talks with al-Jaafari, who began a five-day India visit today.
He said Singh's information, that the Indians were lodged in the jail, was based on inputs gathered before its demolition.
Al-Jaafari's visit to India comes two weeks after Iraqi Prime Minister Haider al-Abadi announced liberation of Mosul, the second biggest city in his country, from the ISIS, which marked a major milestone for the Iraqi security forces. 
The minister said the Iraqi government will make all possible efforts to trace the Indians, while expressing hope that they are alive.
"My deep compassion and sympathy are with the families of the Indians. I consider them as my children," he said, while praising Swaraj for her "persistent efforts" in following up the case.
"We will do our utmost in the case, but it may take time," he said.
He also observed that ISIS had a strategy of shifting prisoners from one place to another and of spreading fake news.
Asked about the fate of ISIS chief Abu Bakr al-Baghdadi, who as per recent reports has been killed, al-Jafaari said that the Iraqi government was not "100 per cent certain" and that it was in the process of obtaining details, including his DNA to ascertain if he was dead.
In a meeting with the relatives of the abducted Indians last week, Swaraj had said they might be languishing in a jail in Badush in northwest of Mosul where fighting was going on.
India is seeking Iraq's help to locate the 39 missing Indian labourers, mostly from Punjab, who are kidnapped in Mosul three years ago. India has already sent two high-level senior delegations to Iraq to follow up on the matter after Mosul. Minister of State for External Affairs V K Singh was sent to Iraq days after the Iraqi PM announced victory in the fight to liberate Mosul.
(With agencies)