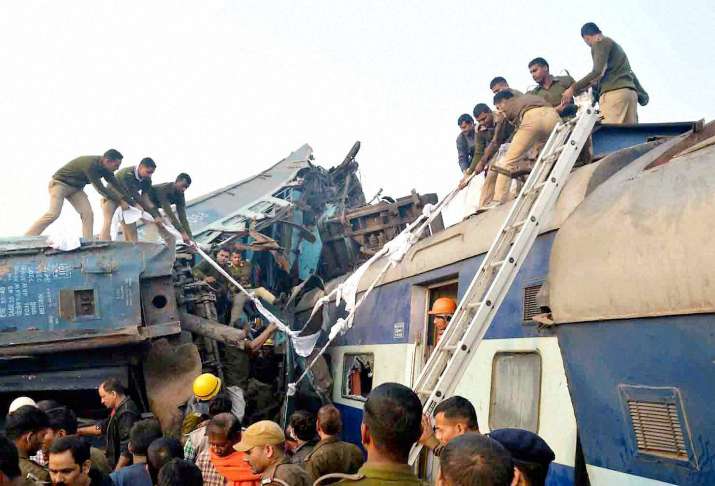 In a shocking revelation in the Indore-Patna train tragedy that killed at least 120 people, it has emerged that the train on the ill-fated day was carrying over fifty percent of passengers more than what has been originally claimed by the Indian Railways.
According to a Times of India report, while the railways claimed that around 1,200 people were on board, railway sources have claimed that hundreds of passengers on the train were travelling either without ticket or with general ticket which the railways figures do not show. 
"The number of such people could have been even around 500 which is almost half the capacity of the train," a railway official was quoted by Times of India as saying. 
For instance, Raja Ram, who was searching for his sister-in-law at Indore railway station on Sunday, knew that she had boarded the train on Saturday but was not sure about the coach in which she was travelling as she had a waiting list ticket. 
"She was travelling on a ticket with waiting list 296, I left her on one of the coaches, I have no idea if she was in the coach with fatalities," he said.
"There are many relatives who have come with enquiries for relatives who were not authorized to travel in the train. This suggests that the number of people travelling were much more than those who got reservation," said a railway official. 
Meanwhile, vendors of the station have also claimed that the crowd on Saturday was much more as compared to crowds for normal trains. While railways had installed some extra coaches for the increased crowd, they were not enough to meet the demand. 
The Indore-Patna Express runs fully occupied as this is the only train that connects Patna to Indore and a lot of people of Bihar and UP live in this part of the state. 
"A general boogie can generally accommodate 90 people, the crowd in general bogie of these trains are usually on the higher side," said a senior official of the Western Railways.