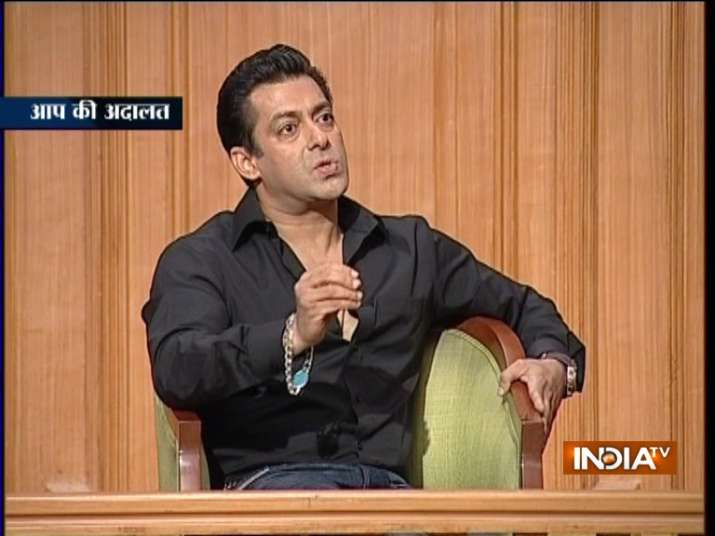 A Jodhpur court today sentenced Bollywood superstar Salman Khan to five years in prison for killing two blackbucks, capping a 20-year case that began with a late night safari outside this tourist city on the sidelines of a film shoot in 1998. In his verdict, the judge found the actor guilty under Section 9/51 of the Wildlife (Protection) Act, which prescribes a maximum punishment of six years behind bars. On Saturday, the actor has been granted bail against Rs 50,000 personal bond.
Khan is alleged to have shot and killed the blackbucks in Kankani village near Jodhpur on the night of October 1, 1998 during the shooting of the film "Hum Saath Saath Hain". 
This is Salman Khan's third conviction in the matter. In two prior cases, the actor was acquitted by the high court and the matter is pending in the Supreme Court.
Also read | Blackbuck poaching verdict: Five years in jail for Salman Khan; hearing on bail plea tomorrow
Despite maintaining his innocence in the case, the actor has always shied away from sharing his side of the story in public, except with Rajat Sharma on Aap ki Adalat. The superstar of Indian cinema told India TV's Editor-in-Chief what he has never shared in public before. 
In three different interviews with Rajat Sharma on Aap ki Adalat, Salman Khan not only shared his side of the story in the blackbuck poaching case but also told him about how it has hampered his personal and professional life.
Here is Salman Khan's side of the story, as shared on Aap ki Adalat (2010)
When Rajat Sharma quizzed Salman Khan on why he has been so quiet about his role in the blackbuck poaching case, the actor said he does not believe in explanations and would rather win the case on merit. 
"I do not wish to give explanations, I was not there or I was not involved. I say we will fight the case in the court on the basis of merit."
On 9th (October 1998), the police came and took us away along with Tabu, Neelam and Sonali. If we were hunting, what would they have been doing there? 
Also read | Salman Khan gets 5 years in jail: A timeline of 1998 blackbuck poaching case
"The first post-mortem report, conducted on 2nd (October 1998), revealed that one of the bucks had died of overeating and the second one had broken his leg after falling off a wall and was eaten by a dog."
"The animals were found dead on 2nd, the authorities presumed that we hunted them on the night of 1st (October 1998). We were arrested on 9th. Since we did not know that there was an enquiry, we should have gone hunting every day after that as well. The authorities could have caught us red-handed."
"11 days after the incident, the bodies of the animals were exhumed for a second post-mortem, in which it was stated that one of the blackbuck 'probably' died of a gunshot." 
On being asked about the bloodstained found in his car, Salman Khan said that the blood belonged to his dance director, who had got himself injured in the car earlier. Besides, he added, the gypsy had been left unattended for several days before the forensic investigation.
Talking about how the case has hampered his life in the past 20 years, the Sultan of Bollywood revealed that he has to get the permission of Jodhpur court everytime he has to travel abroad.
Sharing the experience about one of the past convictions in the matter, Salman told India TV Editor-in-Chief that even lawyers fighting against are sympathetic towards him. "After the recent judgement, the prosecution lawyer had tears in his eyes. When your heart tells you that I am innocent, why to drag this case?," Khan told Aap ki Adalat in 2010. 
Also read | Salman Khan jailed for five years in blackbuck poaching case: Here's how Bollywood might lose over Rs 1000 crore
My case has inspired others to stop hunting, Salman Khan on Aap ki Adalat (2010)
While sentencing Salman Khan to five years in jail today, the Judge pointed out the fan following of the superstar, saying he is a "popular actor whose deeds are followed by people". Salman Khan feels the same way. 
During his interview with Rajat Sharma, the actor revealed that he was glad that at least his case has promoted the knowledge about the rare species of animal and hazards of hunting it.
"I am facing inconvenience. I have to frequent jails for short terms, but it's all good. But the fact that they can arrest Salman Khan for a hunting case must have inspired several people to quit killing animals for sports," Khan told Rajat Sharma. 
"I don't think about problems it (the case) cause me, but about the awareness, it must have spread," he added. 
Salman Khan tells Aap ki Adalat (2014) how blackbuck poaching case has kept him away from family life and marriage
In another interview at India TV's Aap ki Adalat, Salman Khan revealed that the court cases have hit a pause on his personal life as he thinks it would be unfair to marry if he may go to jail one day.
"Once there was a time when I thought I will get married. But that did not happen. But now, there are Jodhpur and Mumbai cases. Hopefully, we will win both cases on merit, but if we don't, then do you think it will be fair that I am in jail leaving behind my wife and children?"
"I will think about marriage only after the cases are over," Salman Khan told Rajat Sharma in Aap ki Adalat in 2014. 
Whatever I earn a large part of it goes to charity, says Salman Kahan in Aap Ki Adalat (2012)
Salman Khan might have made frequent trips to the prison in multiple cases, but his public and box office image never takes a hit. And a lot of the credit goes to his numerous activities related to charity and social work. 
The Bollywood superstar keeps only 10 per cent of his income and gives away rest to charity or taxes.
On being asked why he keeps his good deeds hidden, a humble Khan said not all his money goes to charity. 
"It is true that I keep only 10 per cent of the fee, but it's not true that all of the 90 per cent goes to charity. People think I have a lot of money. But in truth my father signs a lot of checks for people who come to us for heart ailments and cancer treatments. That creates a major dent. I am currently trying to earn more so that we can give away more."
"I have also started Being Human and have started restaurants and gym businesses. Profit from these will also go to charity," Khan told Aap ki Adalat.
The Jodhpur court will hear Salman Khan's bail plea tomorrow at 10:30 am.