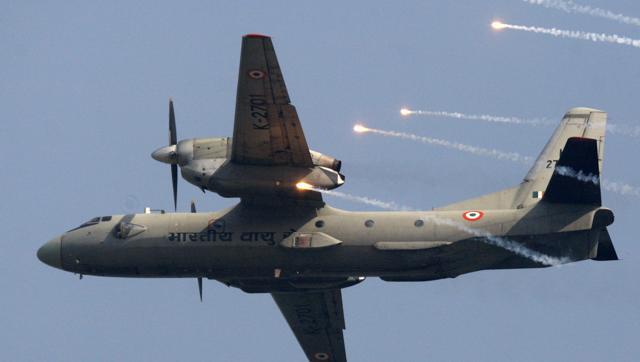 A full-scale search and rescue mission is currently underway to track down the Indian Air Force's AN-32 aircraft which went missing today morning with 29 people on board.
The National Disaster Response Force is set to join the IAF, Navy and Coast Guard in their search for the aircraft in the Bay of Bengal.
Images just in of Indian Navy ships departing Port Blair to hunt for missing Indian Air Force An-32. pic.twitter.com/q2EGI6FOOH

— Shiv Aroor (@ShivAroor) July 22, 2016
Taking into account the sensitivity of the situation, Home minister Rajnath Singh asked NDRF chief O P Singh to ensure assistance in the rescue operation. As per sources, the NDRF will provide manpower from its Chennai base.
An AN-32 transport aircraft of the Indian Air Force with 29 people on board went missing over the Bay of Bengal today.
The aircraft took off from Tambaram Air Force Station in Chennai at 8.30 a.m., and was expected to land at Port Blair at 11.30 a.m., officials said.
2 Navy aircraft (P-8I & Dornier) & 4 ships currently on hunt for missing IAF An-32. More to be deployed. pic.twitter.com/n5GgQXZuEK

— Shiv Aroor (@ShivAroor) July 22, 2016
"The aircraft departed at 8.30 a.m. and was due at Port Blair at 11.30 a.m. The aircraft has not reached. Search operations are on," said a Defence Ministry official.
According to sources, the aircraft went off radar a little after 9 a.m.
What the inside of an Indian Air Force An-32 looks like. With @manupubby_ET, @ThaparVishal etc on report years ago. pic.twitter.com/04dQC0LRB8

— Shiv Aroor (@ShivAroor) July 22, 2016
War scale rescue operation launched
Indian Navy spokesperson D.K. Sharma said a P-8I surveillance aircraft, a Dornier and several ships have been deployed in the search and rescue operation.
Ships deployed for the search include Shivalik-class stealth frigate INS Sahyadri, guided-missile destroyers INS Rajput and Ranvijay, corvettes Kamorta, Kirch, Karmuk, Kora, Kuthar, fleet tankers INS Shakti, and INS Jyoti, amphibious warfare vessel INS Gharial and patrol vessel INS Sukanya, the Indian Navy said.
Details of the missing AN 32 crew members
Airforce officers - 3
Air crew - 1
Technicians - 2
IAF personals - 11 ( 1 officer, Airmen -4, NC-5, DSC-1)
Army - 2
Navy - 9 (Naval Civilian - 8, Other Rank - 1)
Coast Gaurd - 1
AN-32: Substantial part of IAF's workforce
The Russian-origin aircraft is known for its excellent take-off characteristics in hot and high conditions, and is suitable for use as a medium tactical military transport.
The twin-engine aircraft is primarily used for transporting cargo, passengers, including skydivers or paratroopers, as well as in fore-fighting.
The IAF at present has a fleet of over 100 AN-32s in service.
Time now to hope for the best and trace the Indian Air Force An-32, not resort to degrading a fine workhorse plane. pic.twitter.com/4ESBrZV4js

— Shiv Aroor (@ShivAroor) July 22, 2016
Prominent personalities express concern
Master Blaster Sachin Tendulkar took to Twitter to pray for the safety of all the on-board personnel of the missing AN-32 aircraft.
Praying for the pax & crew of the IAF An32 missing around Port Blair. Hope all remain safe and return unharmed, fingers crossed!

— Sachin Tendulkar (@sachin_rt) July 22, 2016
Congress President Rahul Gandhi also took to the micro-blogging website and wished the rescue teams soon hunt down the IAF's aircraft.
Praying for the safety of passengers & crew on board the missing IAF AN32. Hope search &rescue teams find them soon

— Rahul Gandhi (@RahulGandhi) July 22, 2016
Popular sand artist Sudarsan Pattnaik offered his prayers in his trademark way.
My sand art with message #PrayerforIAFIN32 , praying for the safety of lost "Indian Air Force AN-32" aircraft. pic.twitter.com/7aN2bh9vna

— Sudarsan Pattnaik (@sudarsansand) July 22, 2016