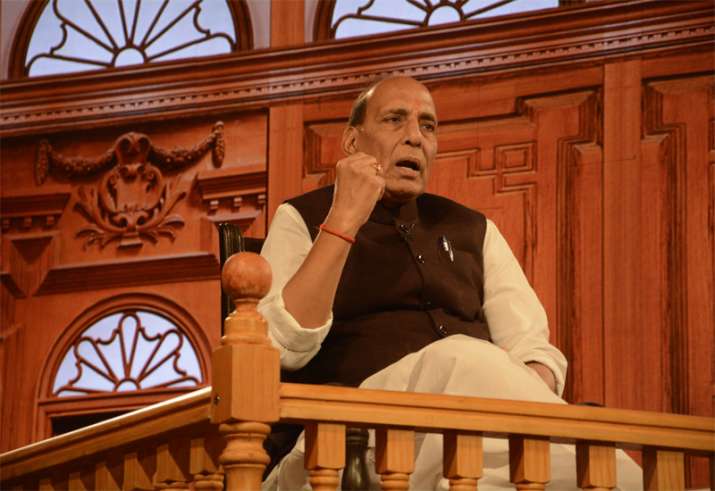 Home Minister Rajnath Singh today said rejected allegations of Congress and Janata Dal (S) leaders that their MLAs in Karnataka have been offered inducements to the tune of Rs 100 crore. "We can't even dream of such a thing", he remarked. 
Replying to questions from Rajat Sharma in the show 'Aap Ki Adalat' during the daylong India TV Conclave, Rajnath Singh said: "I have been in politics for a long time in UP. I have seen governments made and fall, but not a single person in UP can ever say that our party ever promoted horsetrading."
(Catch live updates on India TV Samvaad here)
"In Karnataka, there is a situation where some MLAs from other parties might be wanting a stable government, and if any such MLA offers support on that basis, we cannot refuse", the Home Minister said. 
Watch video: Can't refuse if other MLAs offer us support, Rajnath Singh on Aap Ki Adalat
Asked whether these MLAs might have decided to cross over because of inducements, Singh replied: "They are the best persons to reply to this. I can't issue certificates for somebody's intention. But if somebody comes forward to offer support, naturally we will accept."
Singh said, the people of Karnataka in the recent assembly elections gave its mandate to the BJP. "Our party emerged as the single largest party with 104 seats. Naturally, the Governor used his sole discretion in inviting our party to form a government."
When Rajat Sharma pointed out that the Congress was the single largest party in Goa last year, Rajnath Singh replied: "There is a difference. We did not tell the Governor in Goa not to invite the single largest party. The single largest party (Congress) itself did not stake its claim. Naturally the Governor invited those who staked their claim."
The Home Minister said that Chief Minister B S Yeddyurappa was fully confident of proving his majority in the assembly and "he will do so". 
Watch video: Yeddyurappa confident of proving majority: Rajnath Singh 
To a question as to how the BJP developed the art of forming governments without getting a majority, Singh replied: "This is not art, it is the manifestation of people's confidence in our party. It is they who come forward and tell us that only BJP can provide a stable government in the state."
On Congress President Rahul Gandhi's allegation that media and judiciary were in a state of fear, Singh replied: "If the judiciary had been living in fear, would the Supreme Court had yesterday given the order to hold floor test in Karnataka within a day?"
Watch video: Home Minister Rajnath Singh on BJP taking over maximum states of the country
RAMZAN CEASEFIRE IN KASHMIR
On the announcement of what he called "suspension of operations during Ramzan" in Kashmir, the Home Minister made it clear that this decision was not taken at anybody's insistence.
Rajnath Singh said: "I want to make it clear that we did not take this decision at anybody's instance.  It was a well-considered decision. Since Ramzan is a pious festival for Muslims, we wanted people in Kashmir valley to observe the festival peacefully. But  I want to make this very clear: if security forces are attacked or if there is any infiltration on the border,  they will definitely retaliate. We have not tied up the hands of our jawans."
On Lashkar-e-Taiba's threat that it would continue to attack security forces, Singh replied: "Let them attack and face the consequence. "Hafiz Saeed's dream (of occupying Kashmir) will never be fulfilled."
Watch video: Sense of confidence, and not fear, sweeping across nation: Rajnath Singh
When Rajat Sharma asked whether the situation in the Valley has improved, Singh replied: "I can say this much that the situation in the Valley is presently not to our expectations. It should improve. Come what may, we will ensure that the situation will improve."
"We firmly believe that Kashmir was, is and shall remain with us, Kashmiris were, are and shall remain with us….Pakistan is still continuing to violate ceasefire, but I can assure you that we will not lag behind in fulfilling the aspirations of our countrymen."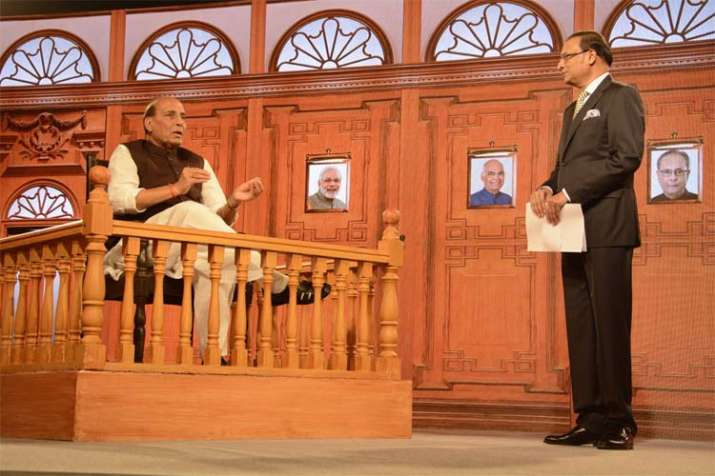 The Home Minister refused to answer a question in relation to Article 370 of the Constitution of India. "I will not speak on this. I am worried about the nation as a whole. What we decide will depend on circumstances. I am not going to give statements to create tension."
Aap Ki Adalat with Rajnath Singh will be telecast tonight at 10 pm on India TV. 
For full coverage of India TV Samvaad on Four Years of Modi Govt click here
Watch full video: