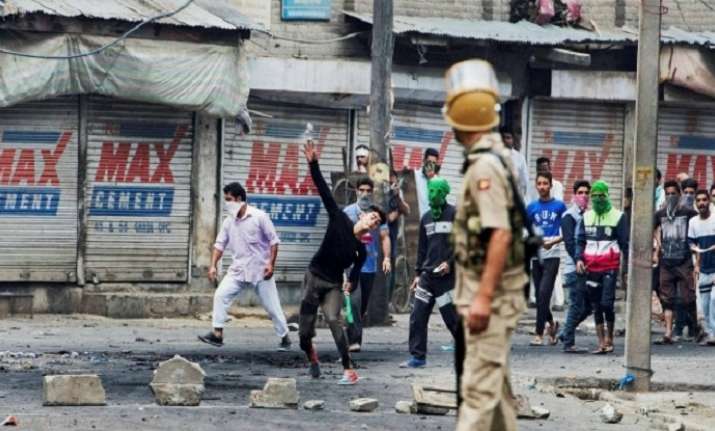 Innocent people are being provoked and forced to pelt stones at Indian Army soldiers in Jammu and Kashmir, an India TV investigation has revealed. If they say no, they face persecution in the form of hostile work environment and threats of false imprisonment.
The exclusive investigation conducted by India TV correspondents Amit Palit and Hima Agrawal has revealed that poor workers who migrate from different parts of the country to Kashmir for work are coerced into becoming stone pelters. One such victim told India TV that they were forced to dress in Phirans so that they look Kashmiri and are made to stand in the front row of group of pelters, directly in line of fire. 
"When we first moved in January everyone was very nice to us. But in a month or two as we became familiar, they started provoking us to join them in pelting stones at the soldiers," a worker who had gone to work in Divine garments factory in Kashmir's Pulwama district told India TV. He said that Kashmiris, he worked with, had little to no respect for Indian Army and often treated the force as their enemy. 
Also read | Five reasons why BJP pulled out of Mehbooba Mufti govt in Jammu and Kashmir
Our discussion with the workers who fled from the Valley to avoid the hostile environment, revealed that their local co-workers often ganged up against Army and planned the stone-pelting as a group to help militants escape the encounter sites. 
"Once we were duped into going along, but within 15 minutes we realised what was happening there. The bullets were flying, and we were in line of fire," one of the workers who hails from UP's Baghpat said adding that he could not attack the Army with stones.
 
"When we told them, we have come here to work and not pelt stones they started abusing us," the worker revealed that one of the owners of his factory got into a heated argument with him over the issue, one of the Kashmiri colleague even remarked, 'let him be, Indians are always like that', the worker said. They even tried to force him to act against the Army in the name of religion and said that a Muslim should stand with another Muslim. 
Also read | Kashmiri youth denounces Hurriyat for forcing them to pelt stones at army
After the incidents, the colleagues started treating the workers from UP with disrespect and abused them at every opportunity, he said. 
He claimed that the owners of the factory Eijaz Wani and Shahid Dar constantly provoked him and other migrant workers to become stone pelters. But they refused to pick up stone against the Army and fled to their hometown in UP's Baghpat and Saharanpur in the middle of the night. 
Unfortunately, their ordeal did not end there. The worker who spoke to India TV revealed that he has been receiving threatening phone calls from his former employer. "The factory owners Wani and Dar called me to threaten that they will kidnap my children and my family from Baghpat," the worker said, adding that Eijaz Wani had even warned him that he has filed fake case of theft against him. 
Another person, who faced a similar ordeal in the garment factory in Pulwama, said they faced constant torture and threats that unless they pelt stones they will be killed. They used to say we will frame you as a terrorist and get you killed, he said. 
Also read | I think those pelting stones should be shot dead: DP Vats, BJP Rajya Sabha MP
In another shocking revelation, the worker said that the man who had helped them get the job left them there never to return, which indicates to a possible gang which recruits poor migrant workers to places like Divine factory, where they are coerced into acting against the soldiers. 
The workers also revealed that the stone pelters force migrant workers to wear the local traditional dress Phiran so that the Indian Army cannot identify them from Kashmiris to migrant workers.  
The Meerut police have formed a special team to investigate the matter. "We will investigate the whole situation, including when and where these migrant workers went to work, for long they were there and if their claims are valid," Prashant Kumar, ADG Meerut zone said, adding that the police investigation will also investigate the possible gang trying to attract poor workers to recruit them as stone pelters.
Watch full report: