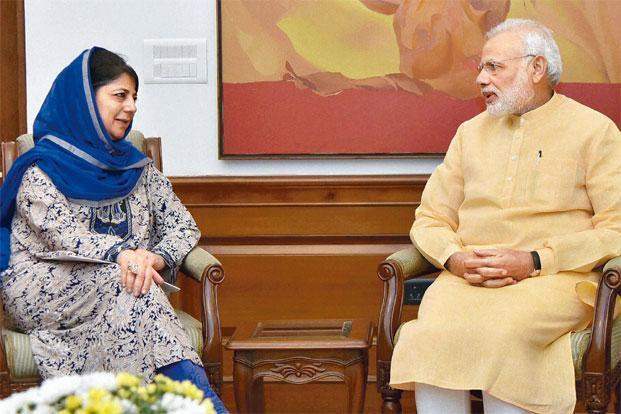 In a big political development, Jammu and Kashmir Chief Minister Mehbooba Mufti on Tuesday resigned from her post after the BJP withdrew support from her government.
The BJP's decision came as a surprise to Mehbooba and her party PDP. The BJP's decision was conveyed to Mehbooba by Governor NN Vohra, minutes before BJP leader Ram Madhav announced his party's decision to withdraw support from the Mehbooba govt.
What led to the withdrawal of the support by the BJP?
According to the information available with India TV, there were five major reasons that forced the BJP to pull the rug from under the feet of Mehbboba Mufti:
1. PDP's soft approach towards terrorists 
The BJP was not comfortable with Mehbooba's soft approach towards terrorists operating in the valley. Mehbooba's denial of green signal to the Army for the commencement of military operations against the terrorists is believed to be the biggest reason behind rhe BJP's withdrawal of support.
According to information available with India TV, the Indian Army had identified the terrorists who had killed 44 RR jawan Aurangzeb. The Army had also got information about their location. However, Mehbooba refused permission for the Army's operation against the killers of Aurangzeb, saying it will be difficult to tackle the aftermath of the encounter.
2. Mehbooba's denial of permission for "Search and Destroy Operation" of Army after Shujaat Bukhari's murder
Mehbooba had also reortedly refused permission for "Search and Destroy Operation" of the Army after the Killing of Shujaat Bukhari, the editor of "The Rising Kashmir".
It is believed that the Army had the information about the killers of Shujaat Bukhari. The central govt wanted to seal/cordon downtown srinagar and carry out search and destroy operations, for which Mehbooba did not give permission.
3. Mehbooba's reluctance for deployment of additional forces for upcoming Amarnath yatra
It is believed that Mehbooba Mufti was not in favour of deployment of additional forces for the upcoming Amarnath yatra in the state despite the fact that the central agencies had strong inputs regarding terrorists' plans to target the yatra.
There were plans for deploying Army personnel and 20 additional battalions of the CRPF on the entire Amarnath yatra route.However, Mehboba did not give the permission for the same.
4. Mehbooba stopped sharing intelligence reports with central agencies, Army
Of late, Mehbooba Mufti government had stopped sharing state intelligence reports with the central agencies, including Indian army which had further deteriorated PDP's relations with the BJP
5. Failure to maintain law and order in state
The BJP was unhappy with Mehbooa for not controlling law and order in thew state.Almost a month back, a  message was sent by the centre to mehbooba  that the law and order situation was spiralling out of control and that she would do well to control it. However, she turned a blind eye to the advice.
Watch: 5 reasons behind BJP's withdrawal of support from Mehbooba govt