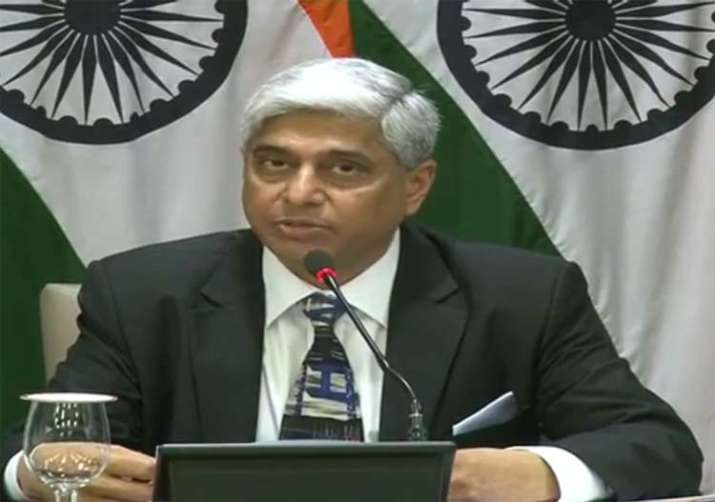 India today made it clear to the United Nations that there is no comparison whatsoever between the situation in Jammu and Kashmir (J&K) and Pakistan-occupied Kashmir (PoK).
New Delhi  made its position clear after United Nations High Commissioner for Human Rights Zeid Ra'ad Al Hussein requested both India and Pakistan to give "unconditional access" to both sides to conduct independent probes into the ongoing unrest in both Kashmir and Balochistan.
Reacting to Rights Zeid Ra'ad Al Hussein 's request, Ministry of External Affair (MEA) official spokesperson Vikas Swarup said that the UN Commissioner has been receiving conflicting narratives on reason behind unrest in Kashmir.
"It would be recalled that the present situation arose from the death of a self-acknowledged commander of the terrorist organization Hizb-ul-Mujahideen, who was wanted for several terrorist acts. It was further aggravated by sustained cross-border terrorism emanating from Pakistan," Vikas Swarup said.
Distinguishing between the existing ground realities between Indian and Pakistani sides of Kashmir, Vikas Swarup said "The former has a democratically elected Government, while the latter has seen a Pakistani diplomat arbitrarily appointed as its head."
Swarup further said that the all-party meeting had deliberated upon the issue of an external mission for Kashmir on 12 August and came to the conclusion that it was not needed.
"The issue of an external mission was considered by the all-party conference on 12 August, 2016, that met to discuss the situation in Jammu and Kashmir. It was unanimously felt that Indian democracy has all that is required to address legitimate grievances," Swarup said.
"We hope that the connection between terrorism and violation of human rights would be recognized and deliberated upon in Geneva," he added.
Earlier in the day, the United Nations High Commissioner for Human Rights requested the Indian and Pakistani governments to grant an unconditional access to both sides of the LoC.
"Namely Jammu and Kashmir and Pakistan-Administered Kashmir in order to conduct an independent, impartial and international assessment of the claims made by the two sides as to the cause for the confrontations and the reported large numbers of people killed and wounded," the UNHR said in a statement later on.