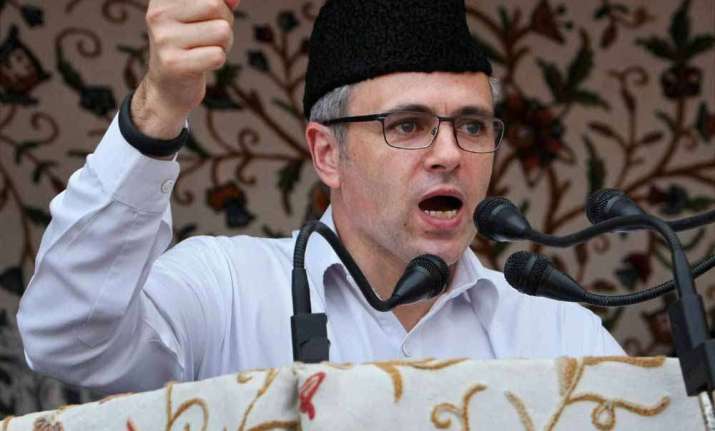 Despite the heightened tensions between India and Pakistan along the Line of Control, former Jammu and Kashmir Chief Minister Omar Abdullah does not see an imminent war looming between the neighbours and believes the two countries are a "lot more careful" about the prospect of war.
"I don't believe we are," Abdullah said when asked whether India and Pakistan are at the brink of war.
"I am not one of those who sees imminent war looming in the sub-continent. I'd like to believe that both governments in New Delhi and Islamabad are a lot more careful about the prospect of war than perhaps some of our TV channels would like them to be," he said at a conference titled 'India and Pakistan: A Subcontinental Affair' organized by the students of New York University yesterday.
Pakistan's former President Pervez Musharraf was also scheduled to speak at the conference but he cancelled his appearance at the last minute citing "security concerns".
There were several moments of animated discussions, some heated arguments and loud cheers during Abdullah's nearly hour-long discussion with the gathering, that included students from both India and Pakistan, on Kashmir, the surgical strikes by India, killing of Hizbul commander Burhan Wani, tensions with Pakistan, plight of Kashmiri Pandits and Article 370.
Abdullah said while there is tension along the LoC and the ceasefire is "under a bit more pressure" than it was at the same time last year, India and Pakistan are not at the brink of war.
Abdullah noted that the government of India has been very careful "in moderating how it has sold" to the rest of the world the surgical strikes conducted across the LoC.
"The government of India has been very careful in explaining what they have done post the Uri militant attack. They have told the world this (surgical strikes) was an anti-terror operation conducted in the vicinity of the LoC," he said adding that the government has not gone into giving  details of how far they went inside the LoC or how many people were killed in the strikes.
(With PTI inputs)